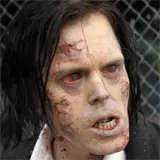 AMC will be cashing in on the popularity of The Walking Dead by developing a new spinoff series set with the same zombie apocalypse ravaged world.
The Walking Dead executive producers Gale Anne Hurd and Dave Alpert, along with the comics creator Robert Kirkman, have been tasked to bring the new series from the small screen. Unlike The Walking Dead, the new series will not be based on any preexisting material.
Instead, the new series will introduce an entirely new cast and approach the zombie apocalypse from a different perspective. That's not to say characters from the current show can't crossover at some point as AMC made it clear in their announcement that that can happen. For for the most part, the new series will stand on its own two feet.
"I couldn't be more thrilled about getting the chance to create a new corner of The Walking Dead universe," said Kirkman in a statement. "The opportunity to make a show that isn't tethered by the events of the comic book, and is truly a blank page, has set my creativity racing."
News of a The Walking Deadspinoff comes only days after AMC ordered a pilot for Better Call Saul, a prequel to the award-winning series Breaking Bad that is now only two episodes away from its series finale.
With The Walking Dead and Breaking Bad spinoffs, AMC is able to leverage its existing successful properties to keep their pipeline active with surefire hits as Breaking Bad and Mad Men wrap up their runs. Recent efforts to launch new franchises have been met with indifference by audiences including Low Winter Sun, Freakshow, and recently cancelled The Killing.
The untitled new The Walking Dead series, which is not called 'Spread the Dead' as rumors are suggesting, is slated to premiere in 2015. By that time The Walking Dead will be premiering its sixth season.