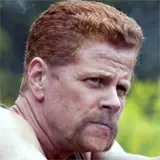 AMC has beefed up the cast of The Walking Dead by adding two key characters from Robert Kirkman's comic series that should play a big role in the show during the latter half of Season 4.
The first new character announcement came early yesterday morning via THR who reported that Josh McDermitt (Retired at 35) had joined the cast as Dr. Eugene Porter. In the comics, Porter was a traveling partner of Army Sgt. Abraham Ford and Rosita, the latter having already been cast with actress Christian Serratos.
During AMC's The Walking Dead panel at New York Comic-Con yesterday, it was simultaneously announced there and online that Michael Cudlitz (Southland and Bad of Brothers) would portray Army Sgt. Abraham Ford, completing the trio of characters from the comics.
Showrunner Scott Gimple opened up about the trio's introduction into the story to THR. "We're going to tell a version of the Eugene, Abraham and Rosita comic stories, that's what we do," said Gimple. "I love those characters from the book, they are very different flavors of comic book characters than we've seen on the show."
In the comics, Eugene tries to hide his intelligence through his physical appearance including a mullet. "Josh looks breathtaking in a mullet, he was born to wear one," Gimple added regarding how Eugene would look in the show. "I can proudly announce we will see a mullet!"
While the first two episodes that media have seen already are set almost exclusively at the prison, that won't be the case as Season 4 moves forward. "We're going to get to those characters in a bit but before that, we're going to be exploring a lot of different locations," Gimple explained. "We're at the prison the first two episodes. We start looking at other places in episode three on but that isn't even tied with them yet."
To coincide with the announcement, AMC released an image of Cudlitz as Army Sgt. Abraham Ford from a recently filmed scene that you can see below.
The Walking Dead: Season 4 premieres tonight (finally!) on AMC at 9/8c.