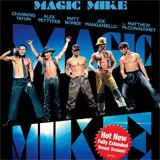 Cyber Monday has come and gone, but for many retailers including Amazon.com, the deals and sales will continue through what is being called "Cyber Monday Week."
Amazon's approach to extending the Cyber Monday shopping fever has refreshed all of the Blu-ray deals overnight and brought some new enticing deals into play. Each of the Blu-ray titles mentioned below are linked directly to their product page at Amazon. Click any of them and you're at the right spot to take advantage of the deal.
Starting with the ladies first, Magic Mike starring Channing Tatum has been reduced in price to $14.99. This is the Blu-ray and DVD combo with exclusive extended dance sequences. Ladies will also enjoy James Cameron's Titanic on Blu-ray and DVD combo for only $16.93.
Pixar and Disney's A Bug's Life has been reduced to $20.49, also a Blu-ray and DVD combo, Clue: The Movie on Blu-ray is down to $13.99, and Princess Bride: 25th Anniversary Edition on Blu-ray is under $10 at $9.96.
Blu-ray action flicks on sale include The Incredible Hulk with Edward Norton for $11.49, The Raid: Redemption for $10.96, The Bourne Trilogy for $27.99, Saving Private Ryan for $14.49, Sherlock Holmes: A Game of Shadows for $12.99, Transformers: Dark of the Moon for $6.96, Tron: Legacy / Tron: The Original Classic five-disc set for $48.49, and Salt for $7.99.
Other Blu-ray titles on sale include Grimm: Season One for $35.99, IMAX: Under the Sea on Blu-ray 3D for $17.99, and Little Shop of Horrors: Director's Cut for $17.99.
I do not know how long these prices will last. Best case scenario is Amazon will run them through their Cyber Monday Week deals time frame and the deals will last through this upcoming weekend. Amazon could theoretically refresh their deals again and put new titles up for sale at any time.