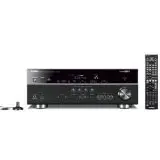 Online retailer Amazon.com has chosen to select a nice piece of audio/video equipment to feature in their Gold Box Deal of the Day just ahead of Black Friday.
For the rest of today only, Amazon is selling the Yamaha RX-V671 7.1-Channel Network AV Receiver for $299.95, 50 percent off the $599.95 list price. The reason for the drastic price reduction is a newer model of this receiver is now available, but it will cost you twice as much for minimal upgrades like 7.1 audio to 7.2 audio. This receiver supports HDMI and everything you would need to run Blu-ray 3D, Xbox 360, Playstation 3, Wii U, your cable or satellite provider, or basically anything else you can throw at it.
With 6 HDMI inputs, you can fit everything I listed above simultaneously. I'm a bit jealous as my current AV receiver has four inputs that I have already maxed out. Something either has to go or a switch box would be required to add another piece of hardware.
Amazon customers have rated this Yamaha 105 watts per channel receiver 4.5 stars out of 5 based on 118 reviews. That's about as good as it gets for electronics on Amazon as there are always a few negative reviews to pull down a perfect score.
You can see all the details specs or take advantage of this Gold Box Deal at Amazon by clicking here.
Additionally, you can browse other Amazon Black Friday 2012 deals here.