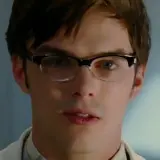 Fox has released a total of four character-centric trailers for X-Men: First Class over the past day or so. I've cobbled them all together below so you can easily watch them from one location.
New to audiences not familiar with the X-Men comics are Havok (Lucas Till) and Banshee (Caleb Landry Jones) whose mutant abilities finally get a proper introduction. Havok has the ability to conjure and throw with his body, for lack of a better word, red energy in the same manner that Cyclops did with his eyes. Here's a hint: Havok and Cyclops share the same last name. Banshee can emit sound waves finely tuned to destroyed objects or allowing him to hover off the ground. Both are recruited by Charles Xavier and learn to control their abilities.
Mystique (Jennifer Lawrence) and Beast (Nicholas Hoult) also receive trailers, most likely due to the pair striking up more than a platonic relationship during the course of the film. Their fates will lie along different paths as one aligns with Magneto and the Brotherhood of Mutants while the other sticks with Professor X and the X-Men.
X-Men: First Class is directed by Matthew Vaughn and will be released in theaters everywhere on June 3.