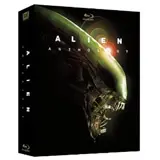 Who said all the best deals were limited to Black Friday and Cyber Monday? A great Blu-ray deal for Alien Anthology popped up on Amazon today that's worthy of either of those big shopping days.
For presumably today only, Amazon is selling the Alien Anthology on Blu-ray for $40.99, the lowest price I've ever seen it offered for. The set includes Alien, Aliens, Alien 3 and Alien Resurrection in one neat and tidy case.
The cool thing about scooping this set up on the cheap now is the arrival of Prometheus in theaters next summer. Ridley Scott's all-new science fiction film was originally written as a prequel to Alien and is expected to include many familiar elements that tie into that universe.
Click here to buy Alien Anthology on Blu-ray for $40.99 at Amazon.com.
Click here to shop all of Amazon's Blu-ray and DVD Cyber Monday Week deals.