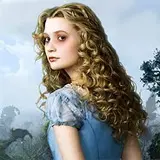 Disney and Tim Burton's Alice in Wonderland shrugged off mixed critical reviews (read ours) en-route to a massive $41 million opening on Friday.
Riding the star power of Johnny Depp and the most 3D screens any new film has enjoyed – even Avatar – has Alice in Wonderland on pace to easily eclipse $100 million through Sunday. The odds are favorable Alice will score the biggest first quarter opening of all-time.
In a much distant second on Friday was the new Antoine Fuqua thriller Brooklyn's Finest starring Ethan Hawke, Richard Gere and Don Cheadle. It managed $5.2 million in the wake of Alice and should finish the weekend somewhere in the $13-$15 million range.
Avatar felt the impact of losing many of its 3D and IMAX screens to Alice in Wonderland with a mere $1.9 million on Friday. Its weekend take should fall short of $10 million and signal an exit from cinemas could be coming shortly. An Oscar win for Best Picture could invigorate audiences to give it a final viewing on the big screen.
Check back Sunday for the complete weekend box office predictions.