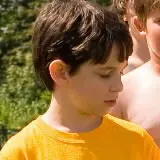 To no one's surprise, Disney's hit Alice in Wonderland remained at the number one spot this weekend at the North American box office by easily fending off another group of new films featuring the likes of stars Jennifer Aniston, Gerard Butler and Jude Law.
Still showing strong holding power (off only 45% from last weekend), Tim Burton's 3D blockbuster pulled in another $34.5 million from 3,739 screens for a new three-week estimated total of $265.7 million. The film should cross the $300 million mark within the next week or so. Where it goes from there is anyone's guess as How to Train Your Dragon invades many of the 3D and IMAX screens currently held by the Mad Hatter and friends. If Alice displays the holds that fellow 3D blockbuster Avatar has, the $350 million milestone may still be obtainable prior to its home video debut in roughly two months.
Second spot went to Fox's latest family film based on a best-selling book series, Diary of a Wimpy Kid, with a not-so-wimpy $21.8 million gross from 3,077 screens. While not quite as big of an opening as the recent Percy Jackson and the Olympians, the bow for Wimpy Kid was impressive given the facts that it didn't open on a holiday weekend and that families are still visiting Alice in droves. A second film installment is already in the works.
Third place went to the Jennifer Aniston/Gerard Butler romantic action comedy The Bounty Hunter, which collected a bounty of $21 million from 3,074 screens. Given how heavily hyped the Andy Tennant (Hitch, Fool's Gold) film has been over the past few months, aided by the tabloid coverage of Aniston and Butler's off-screen relationship, Bounty Hunter was expected to open a little bigger and certainly more than Wimpy Kid. But dire reviews and a pedestrian television campaign apparently held grosses back a bit.
Question: When can a studio have two movies in the top five and still have a bad weekend at the box office? If you're Universal Pictures, the answer would be this weekend. The troubled studio's cinematic woes continued with the release of the Jude Law/Forest Whittaker sci-fi action flick Repo Men, which grabbed a poor $6.1 million in its first weekend from 2,521 screens. The film is the latest in a string of flops for Universal, following last weekend's soft opening for the pricey Green Zone and the February fast fade of the even pricier remake of The Wolfman.
Speaking of the Paul Greengrass/Matt Damon action film, Green Zone dropped a sharp 59% to an estimated $6 million in its second weekend for a ten-day total of approximately $24.7 million. Granted, in terms of War-On-Terror themed films, nearly $25 million is actually a pretty good financial haul. But when the movie that made said money costs $100 million to produce, the gross is anything but victorious.
Snapping at Damon's heels with the possibility of switching spots when the final figures are released on Monday afternoon, the sex comedy She's Out of My League held up quite well in its second weekend. Dropping only 39%, the comedy pulled in $5.9 million for a ten-day total of $20 million to date. Seventh spot went to Martin Scorsese's hit thriller Shutter Island with $4.8 million and a new estimated total of $117.6 million.
Eighth spot went to a little art house film you might have heard about, James Cameron's Avatar, with a $4 million estimated weekend take (off only 39% from the previous weekend) for a new total of $736.8 million to date. Watch for the film to finish its first theatrical run in the neighborhood close to the $750 million mark. Ninth spot went to another Forest Whittaker misfire, Our Family Wedding, with a $3.8 million haul for a new estimated gross of $13.6 million. And while the second Twilight was remembered by millions of fans this weekend on home video, New Moon star Robert Pattinson's latest, Remember Me, was largely ignored in theaters. Dropping close to 60% in its second weekend, the film grossed $3.28 million for a ten-day total of $13.9 million.
Next weekend should see Alice in Wonderland abdicating the number one spot to the new Dreamworks 3D animated feature How to Train Your Dragon, while MGM releases the John Cusack time-travel comedy Hot Tub Time Machine. Our Weekend Box Office Prophet game that lets you predict what these films will make is still on hiatus but will return on April 6.
– Shawn Fitzgerald