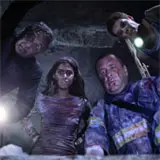 Director Nicolas Lopez and producer/star Eli Roth nestle the horror genre within the disaster genre in Aftershock, coming to Blu-ray and DVD on August 6 courtesy of Anchor Bay Home Entertainment.
Aftershock is not for the faint of heart as it has been compared to Hostel set within an earthquake. The film revolves around a group of young partiers in Chile, including Roth and Nicolas Martinez, who discover that surviving a horrific earthquake doesn't mean they're out of harm's way as the loons come out to play.
Anchor Bay has yet to formally announce Aftershock for Blu-ray and DVD, but a listing at Amazon.com has alerted us to the pre-order, release date, and provided the cover art, which you can see below.
Click here to pre-order Aftershock on Blu-ray for $17.49 at Amazon.com, 42% off the $29.99 list price.