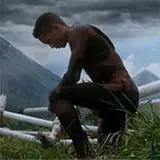 After Earth starring Will Smith and Jaden Smith, and directed by M. Night Shyamalan, failed to lift off on its opening day in the wake of negative reviews that sucked the life out of the film before it even opened. When the weekend is all said and done, audience darling Fast & Furious 6 starring Vin Diesel and Dwayne Johnson will double down on the checkered flag at the North American box office and once again view the competition in its rearview mirror.
After Earth has been gradually trending lower over the past week and ultimately crashed and burned in its debut, earning a mere $9.8 million through its first 24 hours of release, only good enough for third place. To put that awful opening in perspective, Sony spent approximately $130 million producing the film so it would need to make roughly double that to break even. As it stands, After Earth will be lucky to reach $25 million through Sunday, which makes it a similar flop to Universal's Battleship.
First place on Friday went to last week's champ, Fast & Furious 6. The Universal hit, which helped the studio reach $1 billion in worldwide box office within a year faster than the studio ever had before, earned $10.5 million Friday and will win the weekend with somewhere between $30 and $35 million. To date Fast & Furious 6 has earned $146 million and will blow by $200 million within the next few days. The next installment in Universal's bread and butter franchise is due out next summer.
Landing in second place and upsetting After Earth with a magnificent magic trick is Summit Entertainment's Now You See Me. It nudged past $10 million and should finish the weekend a little north of $25 million, above early expectations that suggested an opening weekend in the low $20 million range.
The Hangover Part III stumbled into fourth place with $5.2 million and has now earned $77.4 million since its debut a little over a week ago. It should cross $100 million mid-to-late next week.
Capping the top five is Paramount's Star Trek Into Darkness. It tacked $4.4 million onto its growing pot of $169.2 million and aims to cross the $200 million mark in a week or so.
Tomorrow we will update the weekend box office results with studio estimates to see if this year's biggest flop thus far, After Earth, was able to reach $25 million or if negative word of mouth held it back even more.