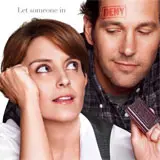 The romantic comedy Admission starring Tina Fey and Paul Rudd appears ready to join the ranks of Blu-ray and DVD on July 9 per a new listing at online retailer Amazon.com.
Admission has underachieved at the box office with $17.7 million off a budget of around $13 million. For comparison, Fey's last romantic comedy Date Night with Steve Carell made $98.7 million back in 2010. Rudd last appeared in This if 40 which earned $67.5 million.
Additional details about the Admission Blu-ray and DVD debut will be passed along as they are made available to us.
Click here to pre-order Admission on Blu-ray and DVD combo for $24.99 at Amazon.com, 29% off the $34.98 list price.