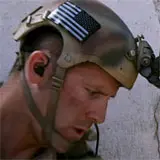 Active duty real-life United States Navy SEALS ruled the North American box office this Oscar weekend as the action flick Act of Valor made an impressive debut in beating fellow newcomers Good Deeds, Gone and Wanderlust. Once again, the top ten kept a lively pace as revenue was up 18% over last year at this time when the number one film, the Farrelly Brothers bomb Hall Pass, was atop the box office with an anemic $13.5 million gross.
Budgeted at a mere $12 million but costing Relativity $35 million to market, Act of Valor arrived after weeks of advertising from partners including LifeLock to offer up moviegoers a new dose of patriotic action. Starring a mix of actors and real-life Navy SEALS, Valor earned a solid $24 million from 3,039 theaters for a potent per screen average of $8,128.
The new approach to the action film genre wasn't a big hit with critics but in the end that didn't matter. Act of Valor hit the intended target audience of Males 25 and older, a demographic that made up a whopping 65% of those in attendance. That group enjoyed the film enough to bestow it with an "A" CinemaScore Exit Poll Rating, which could spell a nice little run for the real-life heroes over the next few weeks.
The latest release from African-American box office king Tyler Perry, Good Deeds, opened a bit more quietly than some of his other recent productions. The low-budget comedy, Tyler's eleventh feature film, arrived on 2,132 screens to earn an estimated $16 million for a good per screen average of $7,505.
When Perry releases a film that doesn't include his much-beloved character Madea, the grosses tend to be down a little bit, but he manages to turn profits due to low production costs. If you thought the demographic turnout for Act of Valor was impressive, check out the demographic breakdown for Deeds: 76% of the opening weekend audience was female, 85% were over the age of 25, and like Valor, these demographics were quite pleased by what they saw and gave Tyler's latest an "A" CinemaScore rating.
Two other films opened this weekend to pretty awful results. The Universal comedy Wanderlust proved that Judd Apatow's name doesn't always guarantee a hit. Landing in eighth place after opening on 2,002 screens, the Paul Rudd and Jennifer Aniston comedy managed to only eke out a limp $6.6 million. Not only was it a non-starter for an Apatow-produced film, Wanderlust also became one of Aniston's worst openings as a lead.
Summit's Gone bombed with only $5 million from 2,186 theaters and a "C+" CinemaScore rating. The horribly-marketed and reviewed Amanda Seyfried thriller became the lowest opening yet for a nationwide release this year, and the worst for Seyfried in her young career.
Once again showing some very impressive staying power this weekend was Warner's Journey 2: The Mysterious Island. Easing a mere 32% from its second go-around, the 3D family adventure flick earned a solid $13.475 million from 3,350 theaters to bring its three week domestic total to the $77 million mark and worldwide to $159 million.
With a new action flick in town, Universal's Safe House lost some of its punch while sliding to fourth place via a 52% drop and estimated $11.4 million. After seventeen days, the movie has earned $98.1 million and should close with close to $120 million, which would make it Denzel Washington's second highest career grossing film right behind 2007's American Gangster, which earned $130 million during its run.
Sony's romantic weepie The Vow also lost some of its appeal in its third weekend as the Rachel McAdams and Channing Tatum film earned an estimated $10 million from 3,038 theaters. Despite the 57% drop in sales, the movie became the first film of 2012 to cross the $100 million mark (Safe House should become the second on Tuesday). It also became the first movie to earn $100 million at the box office for Sony's Screen Gems division.
With Oscar night upon us, several of the movies up for the little gold statue had decent weekends of people trying to catch up on last-minute viewing of the contenders. The Artist continued to struggle to find an audience but jumped up 24% from last weekend to earn $3 million this weekend. Its total stands at $32 million. Fox Searchlight's The Descendants lost 25% of its audience, pulling in an estimated $2.2 million in its fifteenth week of release. Its total now stands at $78.5 million. And in its final weekend before arriving on Blu-ray and DVD, Hugo slipped a mere 5.2% to add $1.57 million to its total, which stands at a respectable-but-not-great $69.4 million. Here's hoping all three of these great films find bigger audiences on home video.
The remainder of the top ten was as follows:
6. Ghost Rider: Spirit of Vengeance (Sony) $8.8 million (-60.2%) $37.8 million to date
7. This Means War (Fox) $8.5 million (-51%) $33.5 million
10. The Secret World of Arrietty (Disney) $4.5 million (-30%) $14.6 million
The Lorax and Project X arrive on the scene next weekend to challenge Act of Valor for the weekend box office crown.
– Shawn Fitzgerald