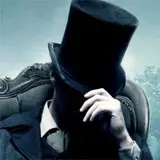 Abraham Lincoln has more than a bone to pick with the vampire community in Abraham Lincoln: Vampire Hunter, the upcoming 3D film from Twentieth Century Fox based on Seth Grahame's novel of the same name that stars Benjamin Walker as the 16th President of the United States of America like you have never seen him before.
This morning Fox released the first Abraham Lincoln: Vampire Hunter trailer that introduces Lincoln as a wickedly skilled vampire killer who spins his ax like those guys standing outside stores with the "sale here" signs. Honest Abe has apparently honed these skills over time since losing his mother to the fang gang, and follows the vampires to the Southern States where they help form the Confederacy and start the Civil War as a means to enslave the entire human population of the Unites States.
Wanted helmer Timur Bekmambetov directed the film adaptation of Abraham Lincoln: Vampire Hunter. It's not hard to see his influence with the numerous slow-motion gravity-defying action shots in this first teaser trailer.
Joining Benjamin Walker in the film are Mary Elizabeth Winstead, Jimmi Simpson, Dominic Cooper, Rufus Sewell, Robin McLeavy and Anthony Mackie.
Abraham Lincoln: Vampire Hunter will swing a mean ax when the genre mash-up arrives in theaters on June 22, 2012.