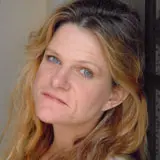 Dale Dickey will be joining the fifth season of HBO's True Blood in a role that's right up her alley.
Dickey will appear throughout True Blood: Season 5 as Annie, mother to former packmaster Marcus, who enters the fray grieving the death of her child and possibly looking for revenge. She will be a powerful and well-respected werewolf intent on completing an unknown ritual that may or may not tie into her son's death.
Marcus met his demise at the end of Season 4 after Alcide stepped in to aid Sam while the two were fighting. The appearance of an unknown werewolf confronting Sam in the closing moments may turn out to be Annie, who might suspect Sam is the one who did in her son.
Dickey is no stranger to playing emotionally unstable backwoods characters having starred in Winter's Bone alongside Jennifer Lawrence. She's probably best known for her role as Patty in My Name is Earl, and has also had small character roles in numerous other films and television series over the course of her career.
HBO kicks off production on True Blood: Season 5 this month.
Source: TV Line