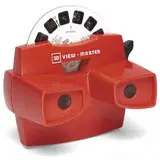 "Bizarro World" collided with Hollywood roughly 48 hours ago resulting in a barrage of projects no sober man could possibly conjure with a straight face.
The phenomenon's first offspring will bring us a feature film based on Atari's Asteroids videogame. Apparently another movie about giant space rocks threatening mankind was not enough. It needed a quarter-of-a-century old game tie-in for credence.
Earlier today Fringe co-producer/writer Brad Caleb Kane announced via Twitter (via Coming Soon) that he will be penning a movie based on Fisher Price's View-Master toy. You know, the plastic binoculars-inspired contraption that you stick a disc with slides on it into. First he has to finish writing Uprising for director Wolfgang Petersen before tackling the toy.
The popular tag team of Alex Kurtzman and Roberto Orci (Transformers: Revenge of the Fallen, Star Trek) are on board to produce. Which means, as confirmed by Kane, that View-Master will be a grand adventure film "…like the old 80's Amblin movies: Goonies, Young Sherlock… In that vein."
I smell another Jumanji only in 3D and less appealing. Insert a themed-disc and that world comes to life. Can this possibly have a good ending?
Maybe Kane started his July 4th adult beverages a little early and we'll wake up tomorrow reading an apology for the joke. Maybe.