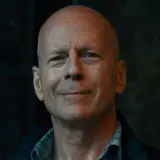 Bruce Willis is looking older these days, but that isn't stopping him from stepping into the shoes of John McClane for a fifth time in A Good Day to Die Hard.
For his latest outing, McClane is once again a fish out of water much like he was in the first Die Hard film as a NYC cop battling terrorists in Los Angeles. This time, McClane ends up in Russia where he teams up with his son (Jai Courtney) to battle scores upon scores of Russian bad guys.
This first A Good Day to Die Hard trailer effectively evokes the fun and action of the original Die Hard film, and I'm willing to bet that's exactly what its intention is. It has the classical music, big explosions, McClane cracking a smile at an attractive woman (recall the "girls" line from Die Hard), and caps it all off with a witty 007 reference from the cop who is chock full of witty lines.
Whether you want another Die Hard or not it's coming, and this trailer has me a little more excited to see the one and only John McClane doing his "thing" at least one more time.
A Good Day to Die Hard is directed by John Moore (Behind Enemy Lines) and opens in theaters everywhere on February 14, 2013.