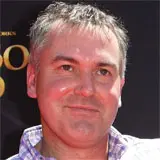 Chris Miller has done a little bit of everything when it comes to animated filmmaking. Starting off as an animator, he's also contributed voice work to all of the Shrek and Madagascar films and, with Shrek the Third, marked his directorial debut.
More recently, Chris has returned to the Shrek family with his latest directorial effort, the spin-off, and Academy Award nominated, Puss in Boots.
I recently had a chance to speak with Chris about the film and its upcoming Blu-ray release, due in stores on February 24.
It seems that as soon as Puss showed up in Shrek 2, that he was just begging to have his own feature. I'm sure there had to have been rumblings from the get go to get a Puss in Boots movie made, but at what point did it become official?
You're right, there were rumblings all the way from Shrek 2 when that character first appeared. It just took a while to get a story together, at least one that felt right. I mean, it took years. So, it was sort of just floating around. It was never quite catching fire but also never going away until finally we got a story around 2008. It was excellent timing for me as I was coming off of Shrek the Third so I jumped at it. I thought it would be a really fun character to build a film around.
That makes sense as there seems to have been some genuine care put into the story, as it does an excellent job of balancing the primary tale with other elements, including that wonderful flashback to young Puss and Humpty. Was it hard pinning down what story you wanted to tell or did it just come naturally?
Yeah, that was the big challenge; finding a satisfying origin tale and one that just suited the character. I always felt that the character, which I always felt that was larger than life.
Yes, very much so!
At the very least, in his own mind, you know? He has this sort of epic view of himself and the world. Everything is romanticized and colorful. It's really just finding the right story to match to his personality and to his character. What we really discovered was that, frankly, the more serious we made the story, more emotional and more dramatic, in a way the funnier the film became. The cat takes himself so seriously, so once we really tapped into that then we could make a movie, or make a comedy around a film that's about redemption and revenge and forgiveness and these other heavy weights that Puss in Boots has to carry around through the film.
Especially when a story can make you so invested in the characters, those other aspects tend to lend themselves more and end up being more successful.
I totally agree. It's like, you can have the funniest movie in the world or a beautiful film but if the story isn't connecting on a personal level, it tends to become pretty forgettable.
Exactly. Along with that, all of the Shrek films rely heavily on pop culture references to make jokes, whereas Puss In Boots had almost none. Was that a conscious effort on your part?
It really was. I think that approach to comedy is, I think the Shrek films did it really well and it suited the tone and satire of the fairy tales and making those contemporary references. We definitely wanted comedy that was just character driven, along with character driving the narrative as well.
Definitely!
And it's also been done a lot. Not just in the Shrek films, but it seems like in animation. That's definitely an overly general statement, but I've just seen it over and over.
Personally I feel like your approach to stray away from that type of humor helps give Puss in Boots a more timeless feel.
I totally agree. That's the byproduct too of doing that. It's like you immediately date your film with the references.
Haha, for sure! Eventually someone is going to be like, "What's COPS?"
Yeah.
Moving on to the Blu-ray itself, it truly looks incredible! It really gives the detail in the animation a chance to shine, most notably how great and authentic the hair looks on the cats. How long and extensive was the animation process?
Approximately two years; a year and a half to two years. There was also just a lot of fur development and cloud world development, and things that in and of themselves took a few years to get that proper feeling and painterly feel to it. I do feel like the film has that look. It's very rich and it really is something that you feel like you can just reach out and grab. It's pretty extraordinary.
It's quite mind blowing. There were some instances where I was taken aback by it.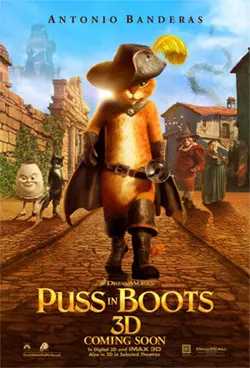 One of the fantastic features on the Blu is the many behind the scenes shots of Antonio Banderas doing his performance of Puss. He looks like he is having the time of his life playing the character. It must be great having such an esteemed actor being so enthused and putting his all into the role, especially when it seems that some big names look down on doing voice work.
It is! I can't imagine anybody else playing that character. It's like they are one in the same. He definitely doesn't view it as a voice over job or a voice over project.
Antonio has made a lot of movies. He's been on both sides of the camera, too. He's directed films and written films and produced them. So, he's a filmmaker and he approaches it like that so he wants to be a part of the process, even beyond lending his voice.
He's invested in developing the character. Animation affords you that. In some of the recording sessions, ya know, we have our screenplay and we definitely have words on the page but we're always looking for ways to improve it and improv and develop the character, even in the studio, that way. Having a voice session with him obviously informs us of what is actually working and what's not on the page.
Those sessions help us to discover new ideas and inform how we're going to re-approach a scene if it's not working. He's really a part of that whole collaborative writing process. He's not sitting at a laptop writing out dialogue, but he's informing the storytelling process and that's pretty great.
That's quite awesome.
That goes for everyone involved in the voice work.
As far as new projects, what's coming up next for you? You've been heavily involved in various roles in both the Shrek and Madagascar series' of films. Anything coming up in the pipeline?
We'll see. I just finished some recording work for Madagascar 3 [note: Miller does the voice of Kowalski] yesterday. I'm looking forward to directing another movie. I'm not sure what that's going to be right now. Whether it's another Puss in Boots, we'll see. I've got some other things I'm working on so, only time will tell.
Right on. Before I let you go I wanted to congratulate you and your entire team on the Oscar Nomination [note: Puss in Boots is up for Best Animated Feature]and I wish you guys the best of luck.
I really appreciate it. Thanks a lot.
I also wanted to throw this out there. At the Golden Globes, the creators of The Artist brought Uggie, the dog from the film, with them to the ceremony. I say you guys should one up them by bringing a cat dressed up like Puss to the Oscars. [laughing]
[laughing] All right!
– Matt Hardeman
A special thanks to Chris Miller and Paramount Home Entertainment.