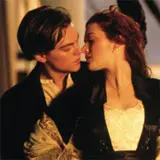 Hollywood's love affair with 3D has convinced one opponent to change his tune and return the second highest grossing film of all time to the big screen in a new dimension. But its conversion limitations have the man behind 300 unwilling to pull the trigger.
James Cameron's Titanic has been touted as making a 3D bow on the big screen in 2012 to celebrate 100 year's since the massive ship hit an iceberg and sank. Thanks to a casual date drop in an article at the L.A. Times written about Titanic actress' Gloria Stuart's 100th birthday, we can now expect Titanic's 3D debut in April, 2012. That date leaves Cameron and producer Jon Landau almost two years to get the 3D conversion done right and opens up the potential for a Blu-ray 3D release of Titanic in late 2012.
From 3D pioneer in James Cameron to pessimist in Michael Bay comes news that Transformers 3 will be shot in native 3D. MarketSaw has the scoop that Bay will be utilizing the same camera system utilized for Avatar to shoot Transformers 3 in its entirety. At least Bay has the backbone to stand up against studio pressures to convert into 3D and is shooting natively instead.
Lastly, Zach Snyder is retreating somewhat on converting Sucker Punch to 3D ahead of its March 12, 2011 release date. "We've looked at a bunch of conversions, so whether or not we have the time to do it right — I'm not going to do it if we don't have the time to really be meticulous with it," he said in a conversation with MTV. "It's such an awesome piece of work and everyone's worked so hard to make it awesome, so I don't want to screw it up with bad 3D."
Zach continues by promising to share the first footage from Sucker Punch at Comic-Con later this month. I suspect everyone at that panel will be screaming and hollering for him to stay as far away from a 3D conversion as possible.