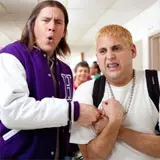 21 Jump Street was able to handily rule the box office without the services of Johnny Depp. Sony was able to lean on the unlikely pairing of Channing Tatum and Jonah Hill to deliver the goods and plenty laughs.
Defying any and all expectations, 21 Jump Street exploded to a big opening Friday at the box office with $13.1 million in its first full day of release. If it stays on track, and given the positive word-of-mouth and exceptional critical reviews it will, the remake no one asked for will either reach or exceed $35 million through Sunday. To be honest, I wouldn't have given the film a chance to reach $10 million after its first trailer was released.
21 Jump Street has proven to be such a success for Sony that the studio has already re-hired Jonah Hill and Michael Bacall to kick up their creative juices and whip out a sequel treatment. Sony smells a comedy franchise, and after the flop that was The Green Hornet, can you blame them for riding this one into future installments?
Taking second place on Friday was Universal's The Lorax with $6.7 million, a mere 30 percent drop from its second Friday a week ago. With a grand total of $142.3 million and counting, The Lorax should hit the $150 milestone by the time final weekend numbers are counted.
Disney's expensive flop John Carter stumbled into third place with $4 million and now stands at only $43.7 million domestically, less than 20 percent of its reported production budget. Expect Disney to push John Carter to Blu-ray and DVD as quickly as legally possible, sometime in early June.
The other holdovers from last weekend didn't fare much better. Project X scraped together $1.5 million in business, while A Thousand Words took in $1.1 million and Silent House a very silent $726,000.
Full Sunday box office results and further evidence of 21 Jump Street's box office dominance are coming a little later today.