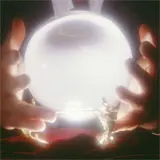 Poor Prophet. Another weekend, another huge miss resulting in barely placing in the top 20 of the Weekend Box Office Prophet game and conceding another victory to all of you.
Where players placed this past round was determined by the prediction on Roland Emmerich's 2012. The Prophet went low – under $30 million – and missed the $65.2 total by more than double to barely eek out a point. The big films have not been kind to the Prophet for several weeks now and with The Twilight Saga: New Moon on deck, won't get any easier.
Overall the average player predictions tied The Prophet for Michael Jackson's This Is it and beat the Prophet for The Men Who Stare at Goats, A Christmas Carol and 2012. In fact, the Prophet only came out on top for Pirate Radio. Hardly anything worth bragging about.
Coming out on top amongst all players and winning the weekly DVD or Blu-ray prize is regular player ChrisLeakFan11. Two other regulars, Shanen and Leon, finished second and third respectively.
You can view the complete leaderboard and weekly round results right here. Then check back Tuesday for the next round of the Weekend Box Office Prophet game.