'White Boy Rick' Review: The American Dream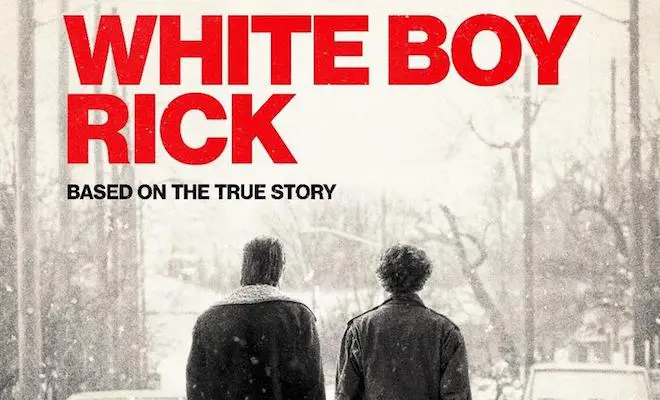 The movies have long since portrayed the American dream as something attainable through luck, skill, or by force. Crime films that show the dream realized have always been popular, films such as The Godfather and Scarface. But when the dream is attained by nefarious means, there's always a downside. The second foot almost always drops, and in the new film White Boy Rick, that foot drop is devastating to a family already ravaged by the world around them.
White Boy Rick is the true story of Rick Wershe, Jr. (newcomer Richie Merritt), a kid growing up in Detroit who, at 15, is recruited by the FBI and Detroit PD to be an informant in the war on drugs, and who turns his knowledge of the world he infiltrates into a successful "career" before he is taken down by the same people he once served. Rick comes from a broken home with his gun dealing father, Rick, Sr. (Matthew McConaughey) and his drug addict sister, Dawn (Bel Powley).
Rick, Sr., is legit — well, as legit as he could be in Detroit in 1984 — buying guns from gun shows and then reselling him with a license from the trunk of his car. The elder Rick has a dream of owning a video store, as he sees home video being the golden calf that will get him and his kids on the path to respectability.
Dawn is a mess, addicted to drugs and in love with a shady boyfriend that Rick, Sr., hates. She leaves home shortly after the film begins, but her presence drives much of the actions of the Ricks throughout the rest of the story.
Rick, Jr., dubbed on the streets as White Boy Rick, gets hooked up with Johnny "Lil Man" Curry (Jonathan Majors), who runs the drug empire in East Detroit. Rick fits right in, even as the only white person in the crew. He deals drugs for Lil Man and reaps great rewards for it. Lil Man never suspects that Rick is working with the police, and things begin to turn sour as the relationship goes on, leaving a vacuum in the Detroit drug trade that Rick is able to step into and continue on his own terms.
There are many layers and reasons as to why White Boy Rick makes this decision, including being the father to a young child, the love of his sister and wanting her to kick the drugs and be healthy, and to help his dad achieve the dream. But deep down, as presented, Rick loves the power that running a drug empire instills, and the script by Andy Weiss and Logan Miller & Noah Miller presents all sides, leaving the audience to decide what Rick's ultimate motivation was.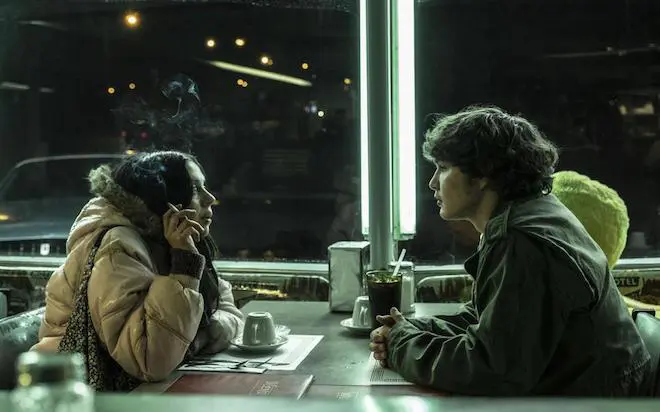 White Boy Rick explores a time and place that was the perfect breeding ground for this culture of drugs and violence. And the boarded up buildings and general gloom that permeates in almost every scene helps tell the story of Rick Wershe, Jr., almost to the point of sympathy. For a drug dealer. In Detroit. That speaks volumes to how this film works.
Director Yann Demange does an admirable job of never once arguing for or against his characters, leaving it to the audience to decide. Rick ultimately got screwed, yes, but not for the reason you might think (if you don't know the story before going in). But he was still a trashy, hood rat drug dealer who broke the law, no matter his motivations, and it's important to never forget that.
The performances in White Boy Rick are stellar, led by Matthew McConaughey, who throws the gauntlet down as to who's the best actor working today. His chameleon-like performances in the last 10 years have flexed acting muscles no one could have predicted he had when he first burst on the scene in 1993's Dazed and Confused as Wooderson, who famously spouted why he likes High School girls. It's past the point that audiences look to his films as "the new McConaughey film," as his acting carries the weight of top line billing, even over the titles themselves.
Richie Merritt has no other professional credits, and it remains to be seen if this is the start of a career, or a case of being the right guy in the right casting office. As far as his performance goes in White Boy Rick, he does a solid job carrying the film as its namesake, but working with, and holding his own opposite McConaughey shows that he might have some real talent. Time will tell.
The rest of cast is filled out with Jennifer Jason Leigh and Rory Cochrane as the FBI agents who recruit Rick, and Bruce Dern and Piper Laurie as Rick's grandparents, who live across the street and are intrinsically involved in everything White Boy Rick does in his climb up the crime ladder.
White Boy Rick is a cautionary tale, but its never really clear what it is cautioning against. Are we to root for the drug dealer to succeed? Are we to hope that his dream is realized, even though the poison he peddles is destroying families all around him? This is never spelled out and that ambiguity works against the film as much as it works for it — if that makes any sense. The audience will be split, I'm sure, but one thing is certain: White Boy Rick succeeds in painting a very bleak picture of 1980s Detroit, a picture that shamefully still looks the same some 30 years later. The American Dream is all but dead in Detroit, and that is saddest takeaway here.
White Boy Rick is rated R and is in theaters on September 14th.
TheHDRoom may be paid a small commission for any services or products ordered through select links on this page.