'Teen Titans Go! To The Movies' Review: Every Hero Needs A Movie
I admit that I'm not a huge fan of the Teen Titans Go! TV series. While I did enjoy the first iteration of the Teen Titans cartoon on Cartoon Network back in 2003, the sudden change of art direction and style was jarring, and I never got into it. I can also admit that the TV series was never for me — a long time DC Comics reader. It was aimed more for kids and tweeners, both in humor and substance. That's what makes the new theatrical release, Teen Titans Go! To The Movies, such a surprising treat. In this late July throwaway summer film from WB Animation, the creators have made something that's unique and incredibly hilarious, and now has me rethinking my stance on the TV show.
Teen Titans Go! To The Movies is the story of the Teen Titans, a group of heroes led by Robin (voiced by Scott Menville) and comprised of Raven (Tara Strong), Beast Boy (Greg Cipes), Starfire (Hynden Walch) and Cyborg (Khary Payton), who want to legitimize their standing in the DC Universe by getting a movie made about themselves. It seems that any heroes worth their capes get movies made about them, and star director Jade Wilson (Kristen Bell) has the magic touch.
At the premiere of the latest Batman movie, Batman Again, the Titans are forced to sneak in, as they aren't even important enough to make the guest list and yet Swamp Things, Detective Chimp, and the Challengers of the Unknown made it in. This realization sets off a series of madcap events as the team tries everything they can to get a movie made about them. They seek out a nemesis in Will Arnett's "Slade," better known as Deathstroke, though his moniker is never used here, and even go on some zany time travel adventures to try and make themselves seem desirable to Jade Wilson so she'll make a movie about them.
The most shocking element of Teen Titans Go! To The Movies is how funny it is. And I mean really funny. The script by Michael Jelenic and Aaron Horvath (who also co-directs with Peter Rica Michail) is loaded top to bottom with jokes, mostly at the expense of the fledgling DC Comics film universe. Batman is ridiculed for his constant rebooting and certain Martha-inspired elements from Batman v Superman: Dawn of Justice are touched upon, as is the disastrous Ryan Reynolds-starred Green Lantern film. It was kind of refreshing that Warner Bros. and DC would make fun of themselves in such a manner. But it's not just DC. Comic book movies in general are tagged early and often, and it works to make one of the funnier films I've seen this summer.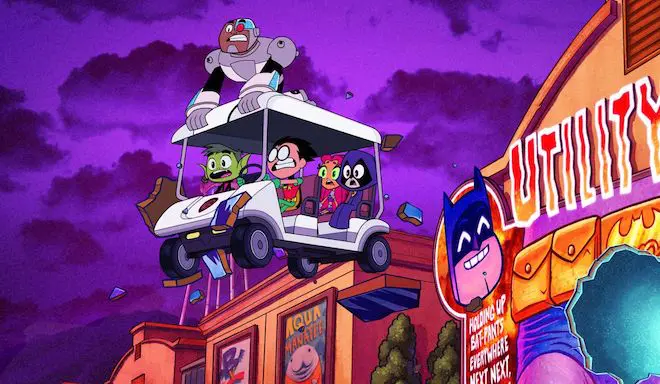 And Teen Titans Go! To The Movies goes dark at some points, crossing some lines that were a little shocking — but is a uproarious good way. Against my preconceived conceptions of what this movie was going to be, there were enough jokes and plot that kids, teens, and even adults — comics fans or otherwise — will find enjoyment here.
And because it's an animated summer blockbuster, there are songs too, and they are infectiously catchy. One, entitled "Upbeat Inspiration," rivals even The LEGO Movie's "Everything is Awesome" in message and tone. Plus, the song has an '80s vibe, has a rad sax solo, and is performed by Michael Bolton. You can't go wrong there.
Also surprising in Teen Titans Go! To The Movies are the choices for the rest of the voice cast. Nicholas Cage finally gets to portray Superman, Jimmy Kimmel voices Batman, Will Wheaton is the Flash, and music stars Halsey and Lil Yachty star as Wonder Woman and Green Lantern (John Stewart) respectively. And, since this is a comic book movie, Stan Lee stars as himself.
Teen Titans Go! To The Movies is the surprise hit of the summer. It's a film that I enjoyed way more than I thought I would, and laughed harder than I thought possible. There are even two post credits scenes (this is a comic book movie, after all), so be sure to stay until the lights come up. I left the theater and immediately began telling my comic book-loving friends about it, and they too are now interested in seeing it. In this silly little DC Comics animated film, Warner Bros. has made one of the best DC Comics-based movies yet. I'm just as surprised as you.
Teen Titans Go! To The Movies is rated PG and is in theaters now.
TheHDRoom may be paid a small commission for any services or products ordered through select links on this page.