'Split' Review: What The What?!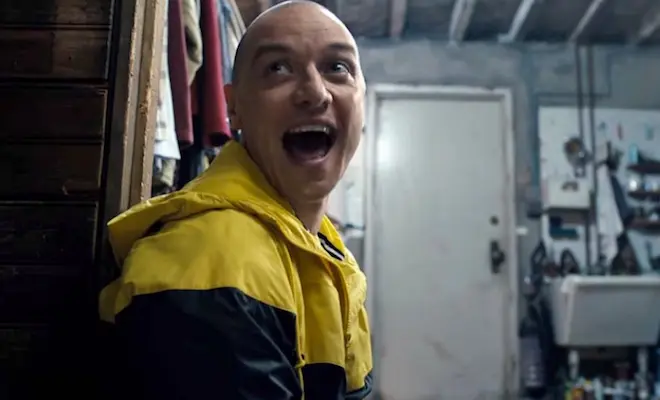 Split writer/director M. Night Shyamalan has had a very interesting career. He first struck it big in 1999 with The Sixth Sense, a film that came with a huge twist that changed how the movie was perceived, and ushered in a new sub-genre of film that Shyamalan would absolutely rule for half a decade. His follow up, Unbreakable, also had a neat twist, but that film had so much more going for it, as it took the classic comic book movie and made it so real.
In recent years, Shyamalan has fallen on hard times, as the need to create twists, and his self-indulgent desire to cast himself in his films have all but made the once promising wunderkind a wash-up, and his films are now avoided as much as they used to be anticipated. Does Split serve as a cinematic pressing of the reset button, or the final nail in the coffin of such a promising career?
Split features James McAvoy (Wanted, X-Men: First Class) as Kevin, a man suffering from dissociative identity disorder, with 23 personalities. Each of the 23 personalities are drastically different, including a young boy named Hedwig, a proper woman named Patricia, and a gay fashion designer named Barry. When one of the personalities turns out to be a predator, three teen girls (The Witch's Anya Taylor-Joy, Haley Lu Richardson, and Jessica Sula) are kidnapped, and the girls must try to escape using the roulette wheel of personalities as an asset.
Also at play here is Kevin's psychiatrist, Dr. Fletcher (Betty Buckley), who keeps getting emails from one of the many personalities asking for help, but when she questions Kevin — or whichever personality that is in control at the time, the personalities work cover up the cry for help. All of this leads to the emergence of the 24th personality, known only as The Beast, which is the most frightening of them all, and Dr. Fletcher must do what she can to stop The Beast and save the girls.
McAvoy turns in a wonderful performance as many of the personalities. Watching him work was a treat, as he could easily slide from 9-year-old boy to 50-year-old woman in the same scene, and the transformation was astounding. Little nuances and facial inflections sell the changes, and Split is worth watching for his performance alone. Buckley and Taylor-Joy also hold their own while McAvoy puts on his master class, and the ensemble does a great job as a whole in telling the story.
Split is not without issues. It slows down to a crawl in spots, and it's possible that 30 minutes or so could have easily been edited out making it a leaner, hungrier film. When the film becomes insipid, and it does multiple times, it brings the whole production down. In fact, as the denouement was wrapping up, I sat in the theater and began pondering what I liked in Split, and what went wrong.
Then, in classic Shyamalan fashion, the entire film changed.
While I won't give up the twist/reveal in the final scene of Split, I will say that it did, after the fact, change my entire perception of the film. While it's still boring in spots, and it still showcases an actor absolutely killing it in every way, the twist/reveal was kind of spectacular, if only as a promise of what could be to come. I'm not trying to be vague here; I just hope that audiences can get that same thrill of the reveal that we did (one of my fellow critics gasped audibly), and maybe it too will make the film better for you as it did for me.
What was once a watch, review, and move on assignment is now a "must watch again" film to see how the layers were built and to instill excitement for a possible future project that could very easily signal M. Night Shyamalan's reemergence into the upper echelons of filmmakers. Now wouldn't that be a twist?
Split is rated PG-13 and is in theaters now.
TheHDRoom may be paid a small commission for any services or products ordered through select links on this page.