'Official Secrets' Review: Knightley Valiantly Saves Historical Drama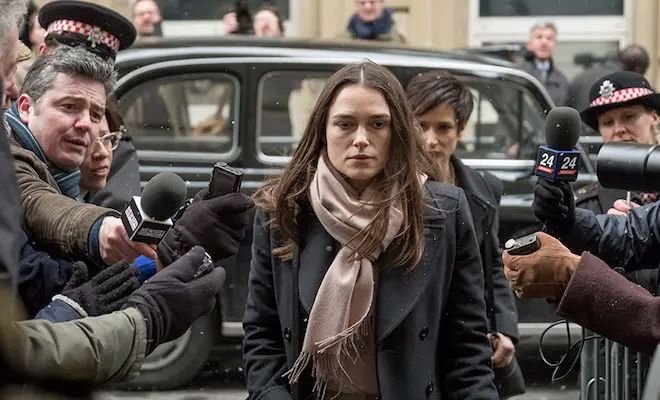 The lead up to the U.S. and U.K. coalition's invasion of Iraq in 2003 is something that history is still unraveling. Many argue that it was lies and deceit that dragged two nations into a war that no one wanted, and there are plenty of facts to back that up. In the new film, Official Secrets, the true story of one U.K. woman's decision to try and shed some light on the darkroom dealings between the two geopolitical allies to try and prevent the invasion is told, and as powerful as the film is, one can't help but reflect back on the times 16 years ago and wonder if much of the death and destruction could have been prevented.
Keira Knightley stars as Katharine Gun, a translator/Analyst at the Government Communications Headquarters in Great Britain who comes across an internal memo and decides to leak it to the press to try and stave off war. The memo details the U.S. and U.K.'s position to dig up dirt on fellow U.N. nations to try and blackmail them into voting on a resolution to go to war with Iraq. Gun gives the memo to an activist friend who ignites a firestorm with The Observer and Martin Bright (Matt Smith) run the story about the memo.
Gun is discovered as the leaker and so begins her journey to clear herself with the help of her attorney, played by Ralph Fiennes. Official Secrets doesn't sugarcoat the resentment toward the U.S. or the George W. Bush administration, and the script by Gregory and Sara Bernstein and Gavin Hood (Eye In The Sky), who also directs, keeps the facts as close to the truth as possible.
I was completely enthralled with Official Secrets, as parts of it gave me what I felt was missing from Academy Award winner for best picture, Spotlight, in how Bright and his team worked to verify the memo and the names attached to it. Other parts worked to make me care for the character of Katherine as a human being.
Knightley was fantastic in the role, and I liked that the script didn't paint her as some over-the-top hero — or a helpless victim — but more of as a young woman driven to do what was right, even if it meant sacrificing everything. Katharine Gun risked her freedom to save lives, and her case could have opened a can of worms that would have ruined whole governments. It's powerful stuff.
I worked in a newsroom back in 2003, and Official Secrets brought up memories of that time and the feeling we all shared as the world was pushed into a war that we all knew was predicated on a lie. We felt helpless, and this film captured that exceptionally well — from the perspective of the people living and working in the U.K.
Official Secrets works as a thriller as much as a drama, one where we all know the outcome and for some, it makes us just as sick now as it did 16 years ago. This is one of those films that made me want to immediately seek out more on the subject to fill in the gaps and to add more context for Katharine's incredible story. That doesn't happen often.
Official Secrets is rated R and is in theaters now. All images courtesy of IFC Films.
TheHDRoom may be paid a small commission for any services or products ordered through select links on this page.