'Molly's Game' Review: The Hand You're Dealt
Aaron Sorkin is a modern master of writing dialogue. His scripts (The West Wing, Social Network, Moneyball) make any TV show or film worth watching, as actors revel in his use of language to tell complete stories and create well rounded characters and situations. Some say that nobody does it better, but what happens when Sorkin decides to try his hand at directing? The end result is Molly's Game, a based-on-a-true-story account of Molly Bloom (Jessica Chastain), who went from Olympic hopeful skier to the brains behind one of the biggest underground poker games in the world.
Molly's Game opens with Molly (Chastain) trying to qualify for the Salt Lake Olympics. She has a nasty spill on her last run, which ends her dreams. She recovers and moves to Los Angeles to start a new life out from under her overbearing father, played by Kevin Costner. In LA, Molly starts life as a cocktail waitress, and soon is discovered by a mover and shaker, Dean (Jeremy Strong), who hires her to be his assistant. Part of her assistant duties is setting up his weekly poker game with some of Hollywood's elite, including actors, directors, producers, and business tycoons.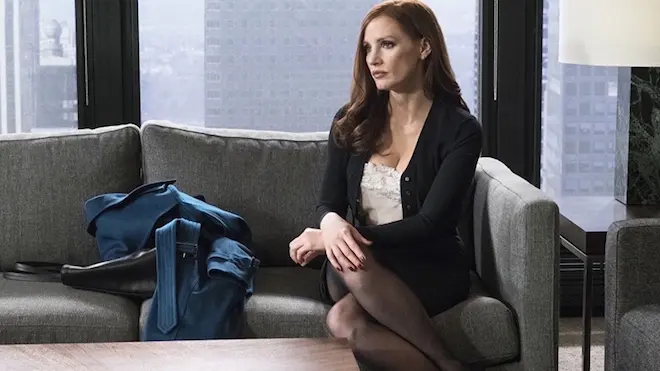 Molly quickly develops rapport with the players, including hot movie star Player X (Michael Cera, playing a loose version of Tobey McGuire). When Dean fires her because she has become too cozy with the game and its players, Molly takes the game over, with the backing of Player X, and starts her own high stakes poker game. This begins a descent into waters she can barely swim in, and as the whole thing spins out of control, her illegal dealings get her in trouble with the feds.
Molly seeks help from attorney Charlie Jaffey (Idris Elba), and as she recounts the story of her game — a game that had life on both coasts, and soon involved the Russian mob — in his office, both Charlie and Molly realize that the gamble was too much, and they work to try and fix her mistakes and keep her out of jail.
Molly's Game shows that Aaron Sorkin is as competent behind the camera as he is in front of a keyboard. Sorkin creates a rhythm that flows like other true-crime films like Goodfellas and Casino. His attention to the minute details of the story transcend the page onto the screen, and he tells a wonderful story in a world of gray, where the good guys and the bad guys are one and the same. His stellar cast brings the script to life, and his words have never sounded better coming from Chastain, Elba, and Costner's mouths. Sometimes, it's just nice to sit back and listen to the cacophony of words that weave a tapestry of art, and Sorkin is an absolute master at it. Give those words to wonderful actors and audiences are in for a treat.
Molly's Game tells a true story about the infamous "poker princess" but it does not glorify her, or her actions. Her rise from lowly assistant to poker royalty is utterly fascinating. The most interesting part of the whole story is in how she manipulated and was manipulated, and how her desire to be the best changed from the snowy slopes to the smoky back rooms of illegal, high stakes poker. That drive almost killed her, and in the end, she lost almost everything. It was all one bet that she couldn't cover, and she ultimately paid the price for it.
Molly's Game is rated R and opens in theaters on Christmas Day.
TheHDRoom may be paid a small commission for any services or products ordered through select links on this page.