Hands Of Stone Review: A Knock-Out Cast Pulls No Punches
Roberto Duran was one of boxing's greatest champions in the 1970s. He had speed, skill, and power, and he absolutely owned a ring. In fact, Duran was known to have "hands of stone." The Panamanian Champion rose up from nothing, and had the world in his hands, until he uttered two fateful words during his second fight with "Sugar" Ray Leonard, words that haunted him until the end of his boxing career, even after he was able to rebrand himself and continue boxing for a living.
In the new film, aptly titled Hands of Stone, the story of Roberto Duran (played impeccably by Edgar Ramirez) is told, primarily from the perspective of his long time trainer, Ray Arcel (Robert DeNiro). Arcel was a Jewish trainer who, in the 1950s, saw the potential for boxing to be a huge TV sensation, but the New York mafia disagreed and tried to kill him to protect their racket. Ariel survived the hit, and a deal was made that he could never earn one more cent from boxing ever again.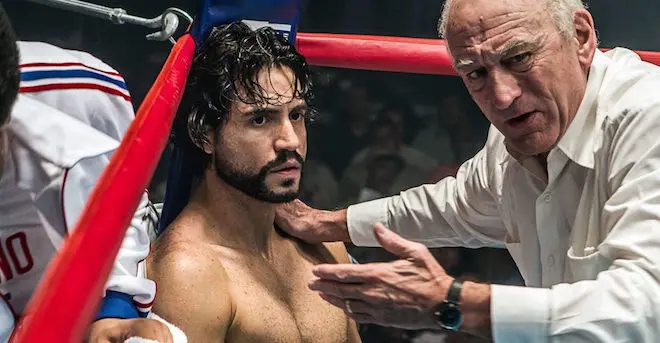 Ariel is introduced to Duran by Carlos Eleta (Ruben Blades), who had been promoting Duran in Panama, and is now ready to bring his prizefighter to New York. Eleta convinces Arcel to take on Duran and to make him a true champion.
Hands of Stone uses flashbacks to show Duran's life from an early age, set against the backdrop of the U.S. occupation of the Panama Canal. Writer/Director Jonathan Jakubowicz isn't afraid to tell a running side story of U.S./Panama relations, with Duran's own absentee father — reportedly a U.S. Marine who impregnated Duran's mother and then left — giving the elder Duran cause to hate America and Americans in general.
But even with the history unfolding in Panama in the 1960s, '70s, and '80s, Hands of Stone is still a boxing movie, and Duran's rise to the top puts him on a collision course with Sugar Ray Leonard (Usher Raymond IV), a smooth talking, pitchman-disguised-as-a-prize-fighter that had captured the hearts of Americans due to his good looks, his ring skills, and his Diet Coke commercials.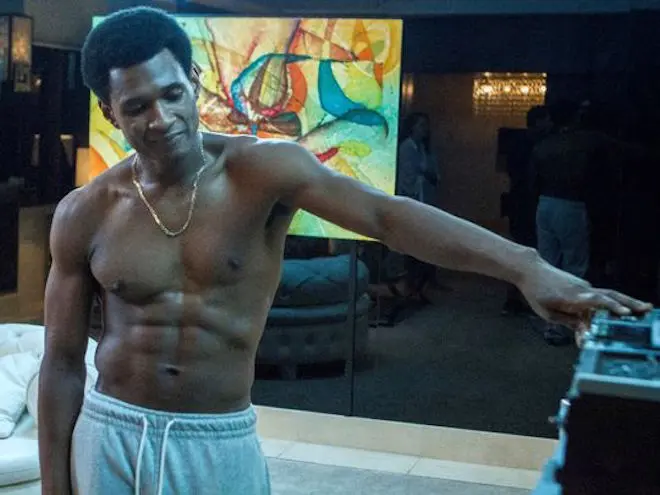 What Jakubowicz does so well here is that he never glorifies Duran as a saint, or even a likable guy. Roberto Duran was kind of a dick, and we see that here. He constantly butted heads with Arcel, he flaunted his wealth — and the film shows him graciously sharing it with his countrymen and friends, and he loved his wife, Felicidad (played by the stunning Ana de Armas), getting her pregnant over and over with a small army of kids all named Roberto — even the girls. Hands of Stone avoids some of the bigger cliches here, as Duran was never the underdog; he never had to learn a valuable life lesson to finally succeed in the ring; and Felicidad didn't give him motivation by sitting at ringside during the big fights. This Duran is grounded in historical fact, warts and all, and the film is better of for it.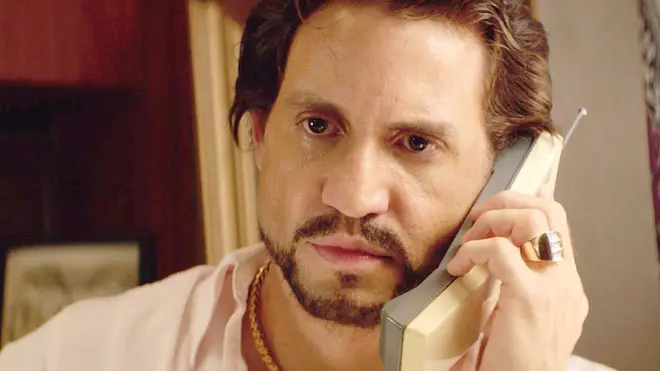 The cast, as a whole, is simply magnificent. DeNiro shines as Ray Arcel, and you can see that boxing history etched into the lines on his face, almost as if he is channeling Jake LaMotta and his time working with Scorsese on Raging Bull. Edgar Ramirez is an absolute star. I was alive to watch Robert Duran fight, and there were times that the line between film and reality were blurred in my brain. Usher Raymond is the perfect choice to play Ray Leonard, and he hits the spots well. I don't know why he doesn't act more. The supporting cast of Ruben Blades, John Turturro, and Ellen Barkin all help to bring some star power and character acting to help build a foundation for a solid screen story.
Hands of Stone is not without its problems. In trying to tell the story from Arcel's point of view, a side plot develops late into the film that kind of goes nowhere, and even though the run time is a brisk 1:45, it felt much longer. Duran's rise to the top of the boxing world is punctuated with so much actual history, and it is shown here. While I personally enjoyed this (my degree is in history), the audience might be turned off by the lesson at work here.
Also, the boxing scenes never felt real, and there was never any real power on display there. Other, more recent boxing films have elevated the art of showing a boxing match on-screen, and yet Jakubowicz instead opts for the much older technique of extreme, clumsy close-ups to try and give the feel of the chaos of a prize fight. The problem with that is that Sugar Ray Leonard and Roberto Duran were two masters of the ring in their time, and their fights were never chaotic slugfests — even if they were slugfests, they made it look like poetry in the ring. Jakubowicz did not.
Hands of Stone is a solid film that tells the story of Roberto Duran, and it doesn't pull any punches (pun fully intended). We see the good, the bad, and we sidestep most of the boxing film cliches, and at the end of the film, the audience will feel that they know Roberto Duran, and Sugar Ray Leonard, and even Ray Arcel and Carlos Eleta. These were all real people, and this is a real story, bumps and all.
Hands of Stone is rated R and is in theaters on August 26.
TheHDRoom may be paid a small commission for any services or products ordered through select links on this page.