The Girl On The Train Review: More Like A Train Wreck
The advertising for the new film The Girl on the Train promises a shocking ending. Based off a best-selling novel, the film stars Emily Blunt (Sicario, Into the Woods) as Rachel, an alcoholic divorcee who is so far disconnected to the real world, due to her excessive drinking, that anything that happens in the movie has to be called into question. That shocking ending that was promised is not what the filmmakers had in mind, though, as this tale of "all men are bad" ends more like Millennial female revenge porn than an actual effective thriller.
Every day, Rachel (Blunt) takes the Metro-North train along the Hudson River into the city, and she likes to pass the time sipping vodka from her adult sippy cup and making up stories about the people she sees as she spies on them living in their houses. One couple in particular, Megan (Haley Bennett) and Scott (Luke Evans) catches her glazed eyes, as they seem so in love — and Rachel becomes obsessed. As the audience learns, this couple lives two doors down from Rachel's ex-husband, Tom (Justin Theroux) and his new wife, Anna (Rebecca Ferguson). Suddenly her casual spying becomes more of an incredibly creepy obsession of what Rachel lost, and The Girl on the Train begins to completely go off rails.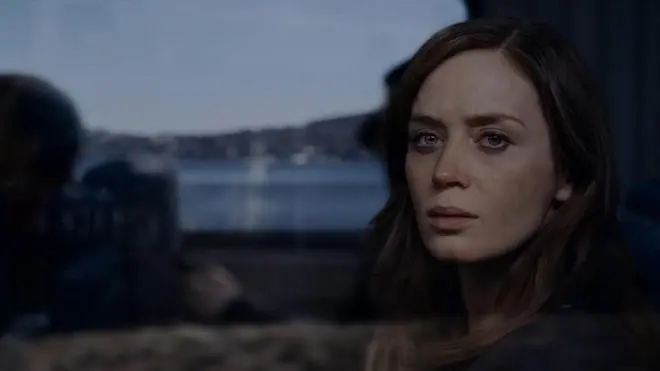 When Megan suddenly disappears, stalking alcoholic Rachel becomes a person of interest, as she has a history of terrorizing her ex and his new wife — and their infant baby — and she drunkenly left the train the night Megan disappeared and blacked out, with no memory of what may or may not have happened.
The film, based off a novel by British novelist Paula Hawkins, seems to work overtime in trying to set up the players in what is supposed to be a thriller. Director Tate Taylor (The Help, Winter's Bone) utilizes title cards as chapter headings, telling the audience who the focus of the scene is on, and in what time period in this jumbled life of upstate New York suburbanites we are watching. This comes in handy as The Girl on the Train soon becomes as jumbled as Rachel's vodka-soaked memories. Taylor and screenwriter Erin Cressida Wilson try to throw swerves at the audience, but the twists just aren't interesting enough to make anyone care.
The film devolves into a man-hating statement piece that glorifies an obsessed alcoholic stalker as the hero, and in fact, purposely under-develops every male in the cast. This is exemplified by the fact that the fourth male lead (Darren Goldstein) is known simply as "Man in the Suit." Luke Evans (Dracula Untold) is an abusive monster, Edgar Ramirez (Hands of Stone) as a therapist is an unscrupulous horn dog, and Justin Theroux, man, he is the devil incarnate, according to the filmmakers.
And that shocking ending? Not to spoil it for you, but it is outright murder. A character is murdered in cold blood based on assumptions and infidelities (which is not a capital crime, the last time I checked), and no one is punished for it. As I said, this is a female-focused revenge fantasy of the highest order, and all logic is thrown out the window.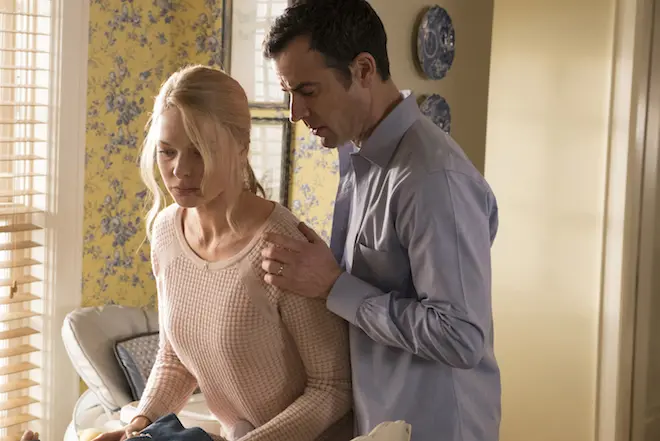 The performances are satisfactory, but let's face it: playing a near-psychotic, delusional alcoholic, as Blunt does here, isn't much of a challenge. The most interesting character here is Bennett's Megan, but once she disappears, the film begins to dim. Allison Janney and Laura Prepon round out the main cast as a detective and Rachel's roommate, respectively.
The Girl on the Train goes out of its way to demonize men, even while glorifying an alcoholic, a promiscuous ingenue, and a knowing home wrecker as the heroes. Based off a best-selling novel or not, the heavy handed way this film plays out is better suited for a lonely Saturday night on the Lifetime network, than for movie theaters at $10-$12 (or more) a ticket. I completely understand that there is an audience for a film like this, as all those Twilight fans have grown up and crave vapid, ineffective storytelling that sacrifices logic for the sake of something to tweet about afterwards, but I will always call a spade a spade, and The Girl on the Train is a train wreck that forgets to go off the rails and instead drags the audience along for two hours that we will never get back.
The Girl on the Train is rated R and is in theaters now.
TheHDRoom may be paid a small commission for any services or products ordered through select links on this page.