'Game Night' Review: Would You Like To Play A Game?
The time honored tradition of game nights between groups of friends is the perfect subject matter for a movie. And it can go either way. It could be a horror film, where things go wrong and people die. It could be a drama, where the games peel back the covers of troubled relationships. Or it could be a comedy, where a series of games quickly go haywire and cause hilarity to ensue. The new comedy Game Night is definitely the latter.
Game Night is the story of Max (Jason Bateman) and his wife, Annie (Rachel McAdams), who host a monthly game night for their friends (Lamorne Morris and Kylie Bunberry; Billy Magnussen and Sharon Horgan), all couples. When Max's uber-successful older brother Brooks (Kyle Chandler) comes to town, he asks to host the next game night at his house for a very special, unique experience. Max and Annie have to avoid their morose newly-single neighbor, and one-time game night participant, Gary (Jesse Plemons), and meet up with the friends for what they think is a night of fun. But Brooks has more in store for the group, and the fun turns into a real kidnapping with a ton of laughs thrown in to boot.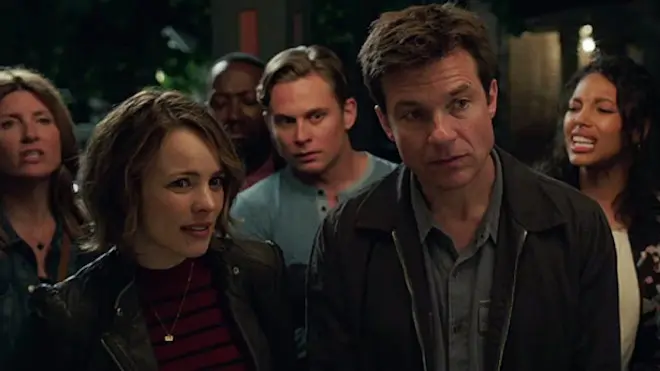 Game Night is the perfect vehicle for Bateman's patented style of comedic timing. Throw in Lamorne Morris (TV's New Girl) and an amazingly hilarious turn by Jesse Plemons (Breaking Bad, Black Mirror), and the laughs come at you fast and furious. At one point, I laughed so hard, I broke up some phlegm in my chest from my December bout with the flu. That was two months ago! Game Night pours on the comedy and misdirection, and it all works. Every character is played perfectly, and a series of running gags involving the likes of Denzel Washington, glass tables, what rich people do for fun, and Plemons' sad, lonely life help keep the comedy going, even as the film dips into a crime caper at certain points.
The script by Mark Perez is stocked with great comedic moments and the story never stalls. If it slows down, it's only to reload of the next series of wacky antics, and all of it matters to the greater story. Game Night is wonderfully directed by John Frances Daley and Jonathan Goldstein, who have teamed in the past as writers of Horrible Bosses and Spider-Man: Homecoming. This duo knows perfect comedic timing and can get the best performances out of Bateman. And this is vintage Jason Bateman. But as good as Bateman is as Max, Lamorne Morris steals the movie as Kevin, with his insecurities and his well-written lines. Morris is the brightest star of Fox's sitcom New Girl, and he transfers that same comedic energy to this role.
Game Night is one of those rare comedies that hits on all cylinders for the entire run time, and by the end of the film, you have not only laughed, but you've also taken a journey with the characters on screen. This is one of the funniest films of the year or any year in the past decade. A strong script and solid directing help elevate the film to the upper echelons of adult comedies, and a near-perfect cast work to generate laughs from even the most mundane of situations. Adults have game nights to get together with friends, make a few laughs, and to have a good time. Game Night, the film, offers the same experience and more, and is well worth playing again and again.
Game Night is rated R and is in theaters everywhere on February 23.
TheHDRoom may be paid a small commission for any services or products ordered through select links on this page.