Dora And The Lost City Of Gold Review: Can You Say 'Fun Family Film'?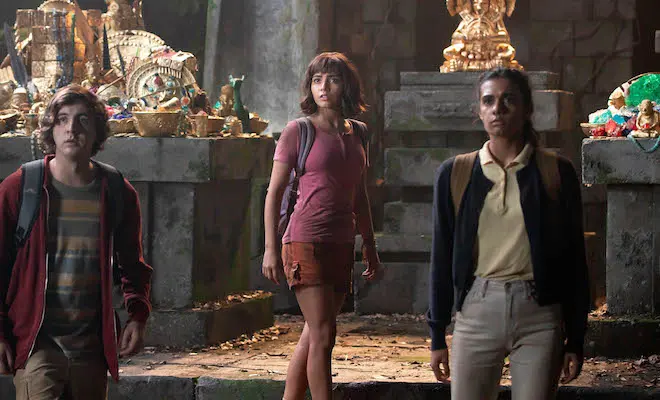 Fun fact, when I was in college, I took a Spanish language class, and every Friday, our T.A. would bring in episodes of Dora the Explorer for us to watch. The simple lessons and vocabulary stuck with me, and most of the Spanish I still use to this day I learned from those episodes. Dora the Explorer is a cultural icon. The young adventurer has been teaching children of all ages languages and jungle facts for almost two decades, but she's never crossed over from animation to live action — until now — as Dora and the Lost City of Gold brings the character to life, and for the most part, they succeed.
In Dora and the Lost City of Gold, the intrepid adventurer is now a teenager, played by the incomparable Isabela Moner (Instant Family, Transformers: The Last Knight), and while she is older, she has never lost that explorer's spirit and child-like wonderment. When her archeologist parents (Michael Pena and Eva Longoria) leave to go find Patapara, the fabled "lost city of gold," Dora is sent to "the city" (in this case, Los Angeles) to live with cousin Diego (Jeff Wahlberg) and attend Silver Lake High School.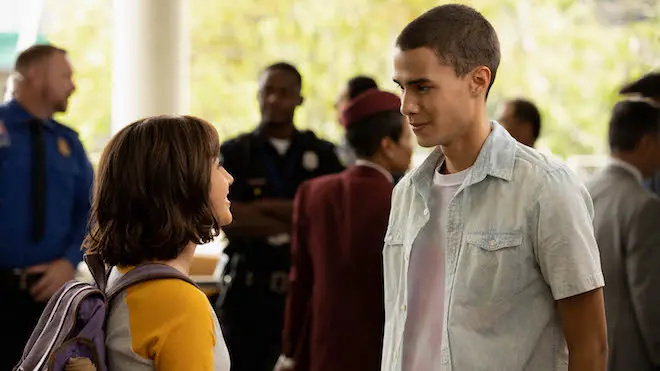 This clash of cultures — a free-spirited girl who's lived her life in the jungle meeting the iPhone generation — leads to some serious laughs as Dora continues her tendency to turn toward an invisible audience to ask them if they can say words like "delicioso" or "Abuelita," even as her classmates and the adults around her have no idea what's going on. He infectious love and wonderment of every one of life's little miracles doesn't play well with the big city kids at her school, and she even embarrasses Diego, who cares more about his popularity standing than the "adventures" that he and Dora shared as children.
Dora stays in contact with her parents on their adventure with a sat phone, but when she loses communication with them, it begins a series of events that sees Dora, Diego, and two classmates, Sam (Madeleine Madden) and Randy (Nicholas Coombe), kidnapped and taken to the South American jungles to try and find her missing family. The group of teens is rescued by Alejandro (Eugenio Derbez), an old family friend also looking Dora's parents, and they set out into the jungle for an adventure they will never forget.
This is where Dora and the Lost City of Gold begins to slowly unravel. The script, by Matthew Robinson and Nicholas Stoller, off a story by Tom Wheeler, wants to take the film in a Goonies-like direction, playing up the adventuring aspects, but the limitations of the character and her history as a children's cartoon on Nickelodeon forces some bad decisions on director James Bobin's part.
This comes, in part, with the introduction of Swiper the Fox (voiced by Benicio Del Toro) as a major character, working alongside the kidnappers. When an animated, bipedal talking fox wearing a mask showed up, I was immediately pulled out of the film and its story and could never quite get back into it as much as I was in the first act-and-a-half.
All of the magic that I was under for the first half of the film was suddenly tainted, and even though Boots the monkey (voiced by Danny Trejo) had already been established as a family pet, this masked fox ruined the film for me as much as he used to try and ruin Dora's adventures on the TV show. In that way it's fitting, I guess.
Dora and the Lost City of Gold is still a fun family film, with laughs for viewers of all ages. Moner continues to shine in every role she is in, and world renowned comedic actor Eugenio Derbez gets to play a fun character. There are inside jokes from the TV show and more, and the subject matter transcends its animated beginnings to create an adventure all its own. Save for one very misplaced Fox, Dora and the Lost City of Gold is a good time for all audiences, and that's something everyone can say.
Dora and the Lost City of Gold is rated PG and is in theaters now.
TheHDRoom may be paid a small commission for any services or products ordered through select links on this page.