'Barb And Star Go To Vista Del Mar' Review: Absurdity Unbound
I get that we all need something to laugh at in times like these. What I don't get is the total lack of quality control on these comedies. Take the new film Barb and Star Go to Vista Del Mar, which is now available to stream. With the comedic power source of the writers of Bridesmaids, and the zany physical comedy genius of Kristen Wiig, this could have been a no-brainer for laughs. Instead, it's a brainless film that tries too hard to do too much, while not going far enough with its two titular characters.
Barb and Star Go to Vista Del Mar stars Annie Mumolo as Barb and Kristen Wiig as Star, two midwestern best friends who lose their jobs at long out of business Jennifer Convertibles (that's one of the "jokes") and then decide to go to a Florida resort on the suggestion from another friend, Mickey (Wendi McClendon-Covey).
The B story here is that a villainous woman called "Dr. Lady" (also played by Wiig in heavy makeup and a wig) is trying to destroy Vista Del Mar due to something that happened in her childhood. She sends her second in command, Edgar (Jamie Dornan), to facilitate her vile plans, and when he gets mixed up with Barb and Star, something resembling comedy ensues.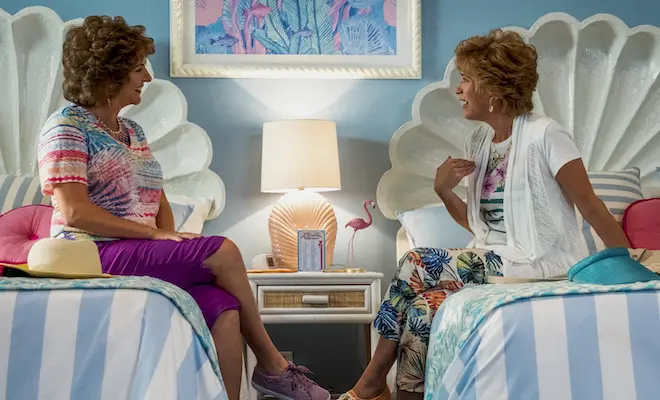 Barb and Star Go to Vista Del Mar is full of absurd jokes, but sadly few land like they should. This film is a late-night TV skit that runs about 90 minutes too long. When the jokes and sight gags do land, like the off-the-wall song and dance numbers, everything to do with a character named Darlie Bunkle (Damon Wayans, Jr.), and a talking crab (voiced by Morgan Freeman), there is laughing. But it's rare.
The biggest mistake here is that Mumolo and Wiig underwrote Barb and Star, as neither character goes as far over the line as they should. I grew up in the Midwest and I know countless Barbs and Stars, with their "mom" hair and assorted culottes for any occasion, and the real women are often more funny than the versions these actresses are trying to pull off. And that's a real shame, as this could have been a gold mine for comedy.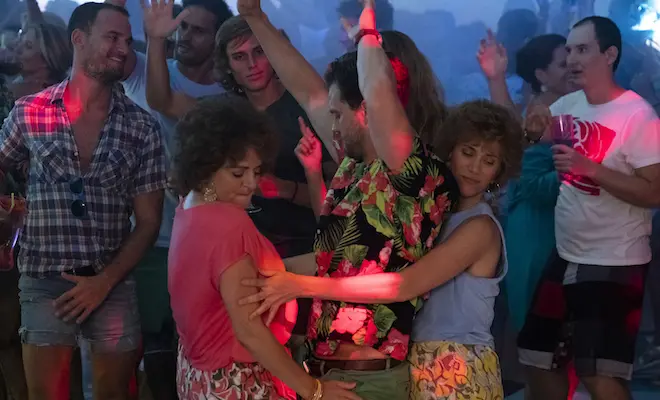 Where films like Austin Powers and Wayne's World are obvious influences, those films relied on elements of spoof for laughs. Barb and Star Go to Vista Del Mar doesn't have that luxury. In its place, director Josh Greenbaum tries to fill the gap with many different elements in a "see what sticks" exercise. This keeps the story from gelling and keeps the absurdity needle solidly to the right.
I wanted more from Barb and Star Go To Vista Del Mar. The pedigree of the creators itself gave me hope for a new comedic masterpiece that will carry on for generations and even create a new franchise, and it still could, but if this is the best that Mumolo and Wiig can do, maybe Barb and Star should just stay home from now on.
Barb and Star Go to Vista Del Mar is rated PG-13 and is now available to stream with VOD.
TheHDRoom may be paid a small commission for any services or products ordered through select links on this page.