'Annabelle: Creation' Review: The Origin Of Nope
The "Conjuring Universe" has proven to be one scary place. Both Conjuring films have invigorated the horror film genre by telling smart, well-directed stories with history and fact to back them up. These kinds of scary movies always tend to be more frightening, especially when you can go home and read all about the actual cases that inspired the films. In the case of Annabelle, the doll first introduced in the opening of The Conjuring, Warner Bros. and New Line hoped to create a franchise featuring the freaky doll, but the first film didn't hit with audiences like the core Conjuring films have. Now, the doll is back in Annabelle: Creation, an origin story of how and why the doll became a conduit of evil, and the franchise is not only back on track, it is challenging the Conjuring films with its scares.
Annabelle: Creation takes the story back to the very beginning, serving as a prequel to a prequel. Audiences meet eccentric doll maker Samuel Mullins (Anthony LaPaglia) and his wife, Esther (Miranda Otto) and their young daughter Bee (Samara Lee). After a terrible tragedy strikes the family, Samuel gives up doll making and he and his wife live alone in their huge spooky house.
Twelve years pass (which is a weird theme in these films), and the Mullins open their home to an orphanage. Sister Charlotte (Stephanie Sigman) and her girls, including young Janice (Tabitha Bateman) and her best friend Linda (Lulu Wilson) move into the house and begin to learn all about the gruff, distant Sam Mullins and his wife, who never leaves her room. Janice suffers from polio, and cannot play and go on adventures with the rest of the girls due to her leg braces. Bored, she stumbles into a room that she shouldn't have and inadvertently unleashes hell upon all who dwell in the Mullins house.
Annabelle: Creation does an admirable job of giving that creepy doll a backstory. Director David F. Sandberg (Lights Out) is the perfect choice to make this film, as he understands that the things in the dark are what scares us the most, and he doesn't have to rely on cheap jump scares for the thrill. There are no cats jumping out of shadows here. Annabelle: Creation is too smart for that. Sandberg and screenwriter Gary Dauberman show you everything that's scary about the house early on, and then call back to it later for maximum effect. Seeing a burlap-headed scarecrow in the daylight in the second act was creepy. When it comes to life in the third act, it is downright terrifying.
The cast of young girls, led by Bateman and Wilson, make for the perfect fodder for a demonic doll. And seeing such young girls in constant peril also works to amp up the tension. These aren't promiscuous teens having sex in the woods at summer camp. These are young, defenseless orphans who have been dealt an awful hand in life, and then have to survive a demonic doll. It just doesn't seem fair, and the audience can't help but wish for their safety.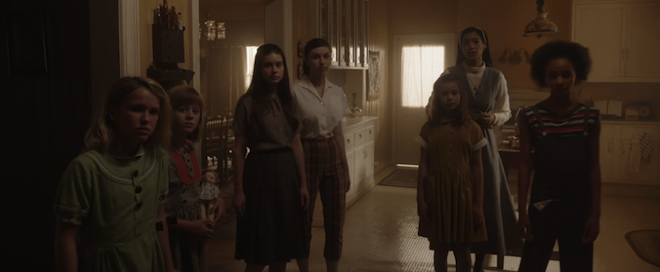 LaPaglia, Sigman, and Otto, as the only adults in this film, are tasked with protecting the girls, and they are punished for it, sometimes to very grueling effect. Annabelle: Creation doesn't pull any punches — nor should it — and the characters on screen are put through hell, no matter their age, and the audience witnesses every terrifying moment of it.
Annabelle: Creation adds a deeper mythology to the Conjuring Universe, not only in giving an origin to that creepy doll, but in also setting up the next film franchise, this one focusing on the creepy nun from The Conjuring 2. And be warned, there is a post-credits scene on Annabelle: Creation, so be sure to stay until the house lights come all the way up. You'll probably need the time to compose yourself anyway.
The fear is real here in Annabelle: Creation and I had goosebumps up and down my entire body for most of the movie. And yes, my heart was pounding. It doesn't happen in many horror films, but it is something that these Conjuring Universe films do and do well. The visage of that creepy doll, coupled with young, innocent girls in danger and the specter of demons and monsters all come together to create a satisfying — and terrifying — journey into the origins of Hollywood's scariest toy.
Annabelle: Creation is rated R and is in theaters on August 11.
TheHDRoom may be paid a small commission for any services or products ordered through select links on this page.