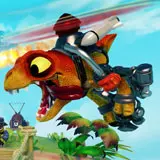 From here on out, Skylanders 4 shall be known as Skylanders Trap Team, the third entry in the ongoing "Toys to Life" franchise from developer and original concept creator Toys For Bob. Only with Trap Team, "Toys to Life" has been flipped on its head to wow kids in a whole new way.
As its name implies, Skylanders Trap Team represents a new specialized group of Skylanders like the Giants and Swap Team. The team are formally known as "Trap Masters," and these behemoth new Skylanders have a unique gift that drives the unique gameplay experience Skylanders Trap Team has to offer.
Each of the Trap Masters are armed with crytalline weapons in the game and a physical Element-based Trap that comes with the toy. These physical Traps plug into the new Portal of Power, called the Traptanium Portal, and allow players to capture select villains in the physical Trap. Once they are in the Trap, a speaker in the Traptanium Portal (with a separate volume control) will let loose the cries and pleads from the villains to let them out.
Activision and Toys For Bob are referring to this new gameplay as bringing "Life to Toys," where the villains are pulled out of the game and into the Portal/Trap. To me it has a Ghostbusters feel and that isn't a bad thing at all.
Capturing villains is only the first part of the "magical" moment. Once captured, players can then switch to the villains on the fly in the game with a simple button press. If you ever wanted to play as the Chompy Mage or even Kaos — and yes, Kaos is confirmed as playable — Skylanders Trap Team will allow you to do that. Assuming, of course, that you successfully capture the villain of choice first.
Toys For Bob has developed Skylanders Trap Team for Xbox 360, PlayStation 3 and Nintendo Wii. The Wii U, Xbox One, PlayStation 4 and 3DS versions of the game are being handled by Beenox. This raises the obvious question: if Beenox is handling the Xbox One and PS4 versions, will they be enhanced in any way considering Toys For Bob, the primary developer, is working off the Xbox 360, PlayStation 3 and Wii platforms? Remember that Vicarious Visions, the studio behind Skylanders Swap Force developed the current and next-gen versions all in-house.
Next up I'm going to share some factual marketing materials from Activision for Skylanders Trap Team. That will be followed by the Skylanders Trap Team trailer, new character images (toy and rendered), the Starter Pack, and screenshots (click the thumbnails to enlarge) viewable as high resolution images or in a YouTube video.
Here are the new Skylanders and *playable* villains we know about so far. The Starter Pack will include Snap Shot and Food Fight.
Snap Shot (Trap Master Skylander)
Wallop (Trap Master Skylander)
Wildfire (Trap Master Skylander)
Food Fight (Core Skylander)
Chopper (Core Skylander)
Funny Bone (Core Skylander — the skeleton dog)
Shred Naught (Villain)
Chompy Mage (Villain)
Kaos (Villain)
We had feet on the ground at the NYC unveiling of Skylanders Trap Team so check out a few photos from the event below as well as on our YouTube channel (be sure to subscribe!). Additional updates are coming as well so be on the lookout.
Skylanders Trap Team will arrive in stores on a release date of October 5, 2014.
In Skylanders Trap Team, Kaos continues his ongoing quest to rule over Skylands. He has discovered the location of the legendary Cloudcracker Prison — a fortress built entirely out of the magical substance Traptanium and home to Skylands' most nefarious baddies. In an attempt to build his own army of foes, Kaos blows up the prison, releasing the most wanted villains and blasting shards of Traptanium to Earth in the form of Traps. Now it's up to Portal Masters to recapture all of the escaped villains using powerful Traptanium Traps and defeat Kaos before it's too late!

Skylanders Trap Team introduces a ground-breaking innovation that lets Portal Masters "trap" the most wanted villains in Skylands and then play as them in the game in the battle for good. The game offers an unprecedented new addition to the game's play pattern in the form of Traptanium Traps. When this new type of toy is placed directly into the Traptanium Portal, Portal Masters can "capture" a variety of special villains from the game and magically transport them from Skylands into the real world.

Toys to Life, Life to Toys – Players will experience an exciting new level of Skylanders innovation through the Traptanium Portal, a new ring of magical energy which reverses the magic of the toys to life category by letting players bring digital characters into the physical world. A built-in audio speaker allows players to magically hear the unique voices of the villains travel from the game into the real world Trap, and vice versa. The Trap also lights up in sync with the villain speaking, adding even more magic to the experience. If you look closely, you can almost see the villain trying to escape from inside the Trap.
Two Ways to Play – In Skylanders Trap Team, you can play as a Skylander or capture Skylands' most wanted foes and unleash them for good. It's up to Portal Masters to find these villains and capture them inside the new Traps that transport the villains into the real world via the Traptanium Portal. Once trapped, players can return the villain to Skylands as a playable character. This exciting new play pattern gives fans the option to switch between playing as a Skylander hero or a villain at any time, creating fun and unique "tag team" gameplay.
Elementally Designed Traps – Themed Trap designs add variety to the collectible Skylanders Trap Team experience. Each Trap is elementally aligned, letting players capture villains who fall under that element. For instance, when Portal Masters explore the world of Skylands and encounter a water villain, they can insert a water Trap into the Traptanium Portal to capture that villain, as well as bring that villain back into Skylands as a playable character who helps in the fight for good. With each new trap added to their collection, Portal Masters unlock an exciting world of possibilities!
New Cast of Characters – A brand new group of Skylanders, known as Trap Masters, lead the charge armed with their oversized crystal weapons in the fight against the most wanted villains and returning nemesis Kaos. The game introduces more than 50 new playable Skylanders heroes, including:

New Trap Master Skylanders
New Core Skylanders
Reposed, fan-favorite Skylanders

Exciting New Adventure – Skylanders Trap Team features an all new adventure-filled story with fun and interesting new characters as well as returning franchise favorites. The game delivers a diverse and dynamic, story-driven gameplay experience, filled with adventure, combat, puzzles, mini games, activities, platforming, and drop-in/drop-out co-op play — all set within a variety of new compelling environments. With each new addition to their Trap Team collection, Portal Masters unlock exciting new gameplay possibilities within each level. Seasoned fans can play Skylanders Trap Team with their entire collection of 175 forward compatible characters from Skylanders SWAP Force, Skylanders Giants and Skylanders Spyro's Adventure.