One of the biggest announcements at E3 this past summer was Activision unveiling special dual-use Donkey Kong and Bowser Skylanders SuperChargers amiibo figures with corresponding vehicles coming later this month as exclusives to the 3DS and Wii/Wii U Starter Packs, respectively. Shockwaves resonated throughout the gaming world when the news dropped at a time when amiibo collecting and hunting was still riding a high from previous holiday shopping season as Nintendo's toys-to-life figures exploded onto the scene.
The importance of this announcement was so paramount to Activision that they deployed as much or more security around it than any other announcement in the publisher's history. There could be no leaks whatsoever with competition in the toys-to-life gaming category reaching a fevered pitch. This meant ensuring Internet sleuths couldn't find any prematurely uploaded images on the Activision servers because there weren't any. Foreign retailers notorious for leaking upcoming skus had to be kept in check, a feat that is much harder than you might imagine. Anyone internally with knowledge about the top secret project were under strict orders to keep it to themselves.
All the effort, sweat and tears put toward keeping the Skylander SuperChargers amiibo figures secret until the morning of E3's first day paid off. Activision was able to garner a huge amount of publicity from the announcement in the face of LEGO Dimensions appearing at its first E3 and Disney Interactive bringing powerhouse franchise Star Wars into their Disney Infinity 3.0 game and booth. Activision needed a secret weapon and when they pulled the curtain a whole slew of journalists previously disinterested in the "kids" Skylanders franchise were suddenly trying to get into Activision's E3 booth for a hands-on look.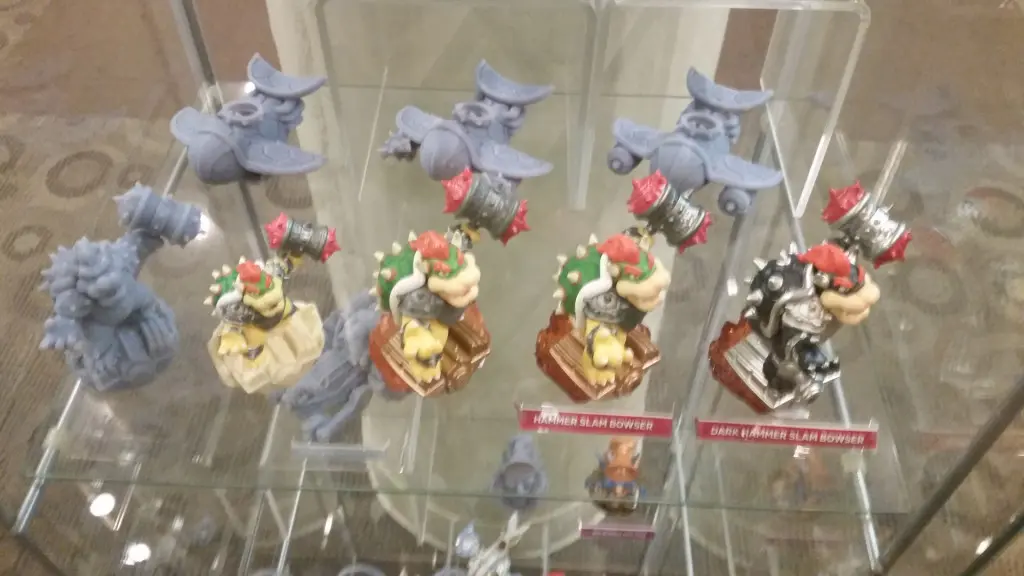 The idea of a big partnership between Activision and more specifically internal development studio Vicarious Visions (VV) dates back far longer than the Skylanders franchise has existed or when VV was purchased by Activision in 2005. VV released their first Nintendo Gameboy Color game, Zebco Fishing!, in 1999. Studio co-heads, founders and brothers Karthik and Guha Bala built and fostered a healthy working relationship with Nintendo over many years, and was finally able to fully capitalize on those efforts with their Skylanders SuperChargers amiibo pitch.
No one at VV was overly confident that Nintendo would go for the idea of putting their iconic characters into a Skylanders game. It was out-of-the-box thinking, the same kind of creative tinkering that gave birth to Skylanders Swap Force and more franchise innovations injected into Skylanders SuperChargers.
Much to VV's surprise, Nintendo gave the idea a green light and then the real work quickly began.
One of the early ideas at VV for a Skylanders SuperChargers amiibo was to create a Warrior Princess Peach complete with a sword to battle Kaos' minions. Nintendo quickly shot this idea down; not only because it's out of character for Princess Peach, but because all the Super Mario Bros. hero characters were immediately deemed off limits.
Another idea was to tap into Kirby's awesome abilities that seemed perfectly suited for Skylands and its action/adventure gameplay. Kirby would have been able to suck up enemies and bounce all over the screen. Unfortunately Kirby's visit to Skylands was never meant to be.
Kirby, and several other Nintendo characters, are not 100 percent wholly owned by Nintendo. In Kirby's case, his rights are partially owned by HAL Laboratory which meant Nintendo was unable to license him out to Activision for Skylanders SuperChargers.
Fox McCloud of Star Fox was also briefly on the table at one point given he's a pilot and naturally fits into the Skylanders SuperChargers world with vehicles. With the Star Fox Zero for Wii U game just around the corner, Nintendo rightfully didn't want to pull interest away from their own big game by having their headlining star first appear in another game.
Donkey Kong and Bowser ended up being natural choices to jump into Skylanders SuperChargers with their long Nintendo history and lore to draw from. Even they weren't an easy slam dunk for VV's character designers and animators as each went through quite a few iterations before reaching their final form.
VV originally toyed with the idea of creating two new Elements for Bowser and Donkey Kong, the latter of whom would have been in the Bananas Element. Next to the other Elements such as Magic, Life and Dark, this direction didn't seem to fit, nor would it have made sense to continue with into the future outside of DK's family members.
For Donkey Kong, there was exploration into the idea that Diddy Kong would be a companion character and follow DK around all the time, much like the Sidekicks used to do. Diddy always being on-screen when DK was would have taken away from the emphasis on Donkey Kong and his toy. As a result Diddy was relegated to vehicle mode only, leaving the option for him to appear as a Skylanders amiibo in the future very much alive.
One particular challenge with Donkey Kong was adjusting his colors for the Dark Edition of the game. Historically only DK's tie has changed color in Nintendo Games as an unwritten rule.  Such a subtle change wouldn't suffice for a SuperCharger character.
To solve this challenge, the character design team came up with a Donkey Kong racing jacket that was easy to flip colors to a darker palette. They also went a step further and darkened DK's fur, a risky idea that paid off when Nintendo surprisingly gave it a thumbs up.
Donkey Kong and Bowser have upgrade paths the same as any other Skylanders SuperChargers character. VV initially pitched a conservative move set for the Nintendo guest stars fearing Nintendo wouldn't want berserk moves coming from their beloved characters. Rather than simply go along with VV's cautious approach, Nintendo countered and asked VV to push the envelope and get creative, the fruits of which you'll see firsthand starting on September 20.
The future of Skylanders amiibo figures now rests in our hands. As Nintendo fans themselves, Vicarious Visions had an absolute blast working on Bowser and Donkey Kong and would love to do more in the future. If enough Wii, Wii U and 3DS Starter Packs sell I highly suspect that's exactly what we'll get.