'Old Time Hockey' Review: A Bad-Mustached Trip To Yesteryear
Old Time Hockey, from developer V7 Entertainment, is just what it says, a throwback hockey sim that takes place in the 1975-76 season of the BHL (Bush League Hockey), a small, unaffiliated league in the "north" part of North America. With porno mustaches and embarrassing hairstyles, and even more embarrassing polyester suits and clothes, the players, coaches, and fans in Old Time Hockey capture the spirit of an era of a sport that has an incredible history, and they do it with laughs as well as good hockey fun.
Old Time Hockey takes its cue from the NHL games of old, such as the iconic NHL 94. The cartoony, cell-shaded look belies a much deeper presentation here, and the near-perfect stadium announcer and the bevy of ridiculous names, all with a hint of truth to them (I can't stop laughing at the name Dick Lager — also, I'm a perpetual 12-year-old). The rinks are community stadiums that seat 1,200 and the games are intimate affairs. But what really separates Old Time Hockey from more polished, big-budget hockey games is in the details. Players fight. Goalies fight. Refs get hit. Helmets (and teeth) are optional. It's not as insane as a NFL Blitz, but the arcade styling and gameplay work to sweep players to a by-gone era of hockey, and the end result is equal parts fascinating as it is hilarious.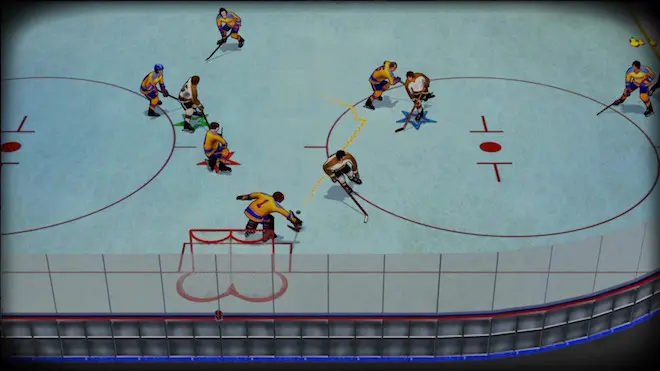 Old Time Hockey features an exhibition mode for up to four players in couch co-op, and a pretty extensive story mode, that follows one team, the Schuylkill Hinto Brews, through the 1975-76 BHL season. Players will get the full hockey treatment here, with season stats and a full on calendar featuring games with all nine of the other teams in the BHL. Players get newspaper stories that fill in the gaps, and there is more shenanigans going on than just hockey, which makes Old Time Hockey a must-play for fans of the sport. Each game in the story mode comes with objectives, and it's not always about winning. It could be to just score a goal with a certain player, or better yet, take out an opposing player with a hit. Completing objectives awards collectible unlocks, like wax packs full of player cards and terrible, flavorless gum. The Hinto Brews are a sad sack team, and playing the story really highlights the peaks of what Old Time Hockey is about.
Vancouver's V7 added a whole bevy of control styles to Old Time Hockey. From simple two button controls, to more recent left/right stick control and shooting. There is definitely a control set up for everybody here, and messing around with them all to find what works will help your enjoyment of the game. I will say that no matter the set up, some of the controls still feel off and not as responsive as they should be. This comes from a guy who played an obscene amount of NHL 17, so my motor skills are aligned to that game and it could be causing some issues with my controlling the players here in Old Time Hockey.
While there is humor throughout, and it is billed as an "arcade hockey game," Old Time Hockey is not an outlandish, over-the-top "spoof" game like NFL Blitz, since I mentioned it previously. This game is a love letter to the sport of hockey, told during a fun time period that conjures laughs solely based on the situations. Yes, the fights are out of this world in their absurdity, high-sticking is only a suggestion, and the scoring celebrations are in poor taste most times, but it fits the time period, for a small league full of guys who will never see the sheen of NHL ice, so Old Time Hockey has that hint of sad nostalgia to it too.
The voice acting and soundtrack are both exquisite, with the stadium announcer's Canadian accent really helping to set the scene for any game. The 12 or so songs that are compiled here for the soundtrack range from Glenn Miller polkas, to rock songs from the Donnybrooks, to one of the absolute classics, Stomping' Tom Connors "The Hockey Song (Good Old Hockey Game)," which is played at every Arizona Coyotes home game, and at other NHL arenas around the league, and really gets the crowd singing. This soundtrack is one of the best I've heard in a video game in a very long time.
Old Time Hockey is a funny, yet exciting throwback sim to the wonderful sport of hockey. Players may look funny with their unfortunate facial hair and hairstyle choices, and the goalies look incredibly under-padded with only their Jason Voorhees' masks protecting their faces, but make no mistake: this is hockey through and through, and V7 has done a wonderful job recreating the experience. While the game is not as full featured as the multi-million dollar NHL titles that EA produces, there is still much to do and enjoy here, and if you love hockey, sports games in general, or just love absurdity at its finest, Old Time Hockey is a must-play.
Old Time Hockey is available now for the PS4, Xbox One, and Steam. This review is based off the PS4 version, provided by the publisher.
TheHDRoom may be paid a small commission for any services or products ordered through select links on this page.