I am full blown comic book nerd, have been most of my life. While Batman is my favorite character, Marvel has always been my favorite publisher. I am also a huge fan of the Diablo series and dungeon crawler games in general, so when I heard that Gazillion Entertainment was bringing their Free 2 Play PC game Marvel Heroes to consoles, I was excited to try it. Currently in closed beta for PlayStation 4 , Marvel Heroes Omega can be played by anyone though, with the purchase of just one of many available "Founder's Packs" in the PlayStation Store. I spent some time playing Marvel Heroes Omega and trying many of the available 38 Marvel characters. If you are also a fan of the comics, you really gotta play this game.
Marvel Heroes Omega was originally conceived in the mid-2000s as Marvel Universe Online, an MMO more like World of Warcraft, but after a few years and changes in licence ownership, along with Marvel's purchase by Disney, it finally ended up with Gazillion Entertainment, who went a different route, developing the current action RPG. In the summer of 2013, Marvel Heroes was launched on PC to mixed reviews, but over the last couple years (and a couple of name changes) it has received praise for its impressive changes and acquired a large player base.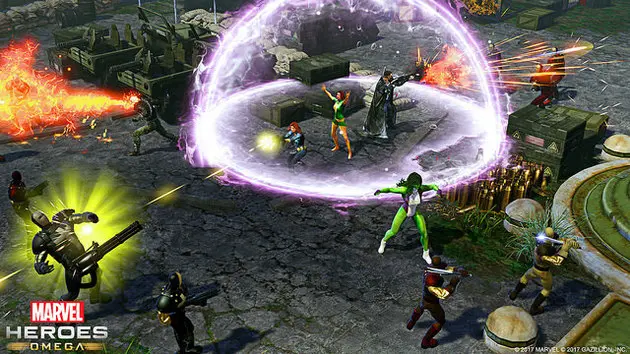 All of this history, it seems, has been very helpful in bringing Marvel Heroes Omega to consoles. Some features have been simplified and left out, others may be added later as the game finds its player base and content is updated. While it may not be an exact clone of the PC version, these changes were needed for the conversion. What players will get on the console is a very solid F2P game. I spent most of my time playing trying many of the 38 different characters, and their various costumes. I tested the different abilities each get and generally seeing how the play styles vary. I got to know a few of the basic systems players encounter when starting out as well. As players level up characters, all kinds of mid- and endgame systems open up to further customize and gear them, as well as to keep players enjoying the game and coming back.
Marvel Heroes Omega plays like most dungeon crawlers; in an overhead view, players control their character using the joystick and different powers are activated with assigned buttons, up to eight different ones (L2 is used to switch to a secondary set). Each character starts at level 1 and as they climb in levels, they level are granted more abilities. Defeated enemies drop random gear upgrades, currencies, and experience points. The credits on the ground even look like the standard Diablo gold piles.  Each character can only equip their specific gear, and even have specific slots to fill, such as helmet, chest, weapons, etc. These vary in rarity and are random. The paper-doll to equip items is accessed on your radial dial menu, from the touch pad. There are no health potions to collect but a time recharged med kit can heal you with the L1 button. All characters also have a quick dodge/roll move automatically assigned to the circle button, a must in combat and until later levels when your character acquires a vehicle, it's somewhat fasters than running. But you only get three timed charges so use them wisely.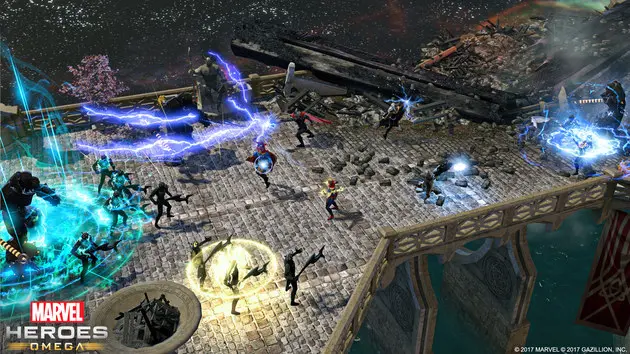 Playing Marvel Heroes Omega is extremely fun for me. Years of these games has made it almost relaxing in its repetitive nature of kill, loot, repeat. Doing it with tons of other player controlled heroes makes it even better. While you are not required to group up, players will be all over and helping is encouraged, with no shared loot drops, so no fighting over gear, as long as you contribute to the attack, you will be rewarded. Groups are great for "dungeons," the random-generated side areas with mini bosses, or attack waves, and nothing beats being able put together a superhero team of your friends online. The different characters actually have different dialog for various encounters. Everyone has something to say about how crazy Deadpool is, for example. The voice acting is so good too, all the of the actors are professionals from Marvel TV shows and other games. Yeah, that's actually Phil Coulson's voice!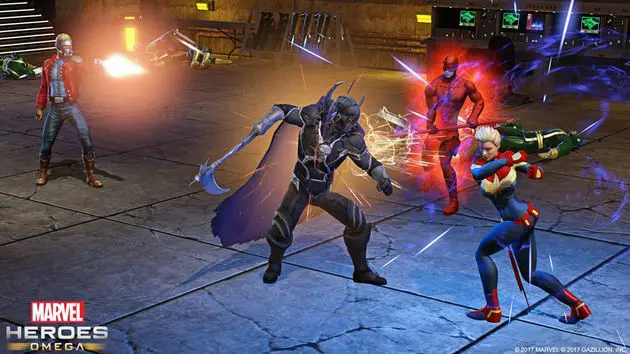 With tons of playable heroes, a huge array of villains to defeat, and lots of end game systems to tweak characters and keep folks playing, Marvel Heroes Omega is sure to be a hit on home consoles. The story, written by Marvel's golden boy the last two decades, Brian Michael Bendis, is awesome, but as each character starts at out in the same place, players must repeat it and the same quests over with each character change. Not a big deal as repetitiveness is the nature of any of these types of games. The various abilities and playable characters do keep it fresh, and a person could spend months just leveling up and collecting heroes, not to mention end game gearing, PvP, and other game modes. My favorite part of Marvel Heroes Omega is the new local co-op. A friend can pop in and play any of your characters from the second controller, sharing your screen. My friend and I had a blast just running around completing quests and killing bosses like Electro and Venom. While still in Closed Beta, it ends on May 17, then Marvel Heroes Omega will be in Open Beta on May 23, so try it as soon as you can. Part action-RPG, part MMO, and all fun, grab a friend in person, or a group online, and give Marvel Heroes Omega a shot, it's free, so you have nothing to lose. Check back with TheHDRoom.com for full review after Marvel Heroes Omega goes live.
Marvel Heroes Omega is in Open Beta May 23rd, this preview was made possible with a Closed Beta code provided by the publisher.