Are you ready for some football? As the NFL training camps open up for a new season of Hail Marys, breakaway runs, and bone-crunching tackles in the sport we like to call football, it's time to look ahead for the next installment in EA Sports annual love letter to the pigskin, Madden NFL.
Madden NFL 17 hits stores in just a few weeks, and already, EA has released a ton of information on player ratings and position battles. But the new features for this year's game are what matter most, as when you get down to it, the game doesn't really change all that much from year-to-year. It is in the whistles and bells, or various game modes, where the true beauty of the 28-year-old franchise separates itself year in and year out.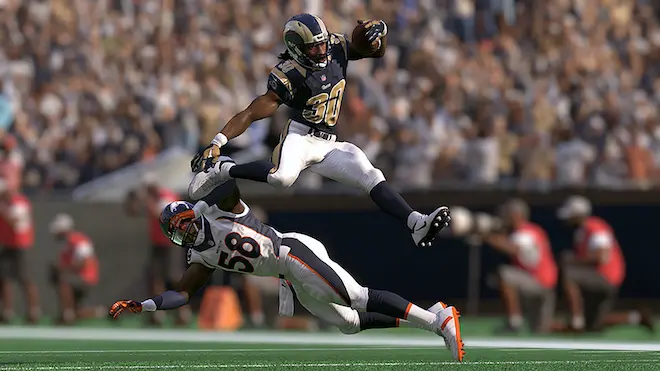 New for this year in Madden NFL 17 is a tweak to ball carriers. Last year saw the advent of the one-handed catch (almost to a fault), and this year, Tiburon has given some love to all ball carriers, giving each personalized touches based on their real life counterparts. Bigger running backs will be slower and can break tackles better than thinner, faster backs, but those thinner, faster backs can leap over defenders and spin out of tackles better. This will create situational opportunities when selecting plays, based on the defenses and defense sets you are playing against.
Speaking of, defense now gets "gap play" which helps the player cover any gaps on the field in real time. Personally, I've played this way for years, constantly tweaking my lines before the snap, but now Madden NFL 17 is giving that entire area some much needed love. Players will also get a simplified defense play calling system. Defense has always been my bread and butter (if I give up more than 50 yards rushing a game, I get angry with myself), and I've always felt that the play calling was pretty solid. We'll see if these new additions help or hurt me in just a few short weeks.
Another big change comes to special teams. Yes, finally, the kicking game gets some polish, as players can call more trick plays, have more control on situational kicks, and we can even freeze the kicker with a jerk-move timeout at the last second. On the flip side, special team defenses also get some love, so maybe now those extra point kicks won't be so automatic.
Another big change in Madden NFL 17 is in the presentation. Phil Simms and Jim "all of my facts are wrong" Nantz are gone, replaced by Charles Davis and Brandon Gaudin. Charles Davis is the more familiar of the two, having worked for Fox Sports, and Gaudin used to call Butler University games, and more recently was the radio voice at Georgia Tech. In other words, you may have never heard of him. Having heard them at work at E3 this year, I like the fresh voices, as Phil and Jim got old after only a season.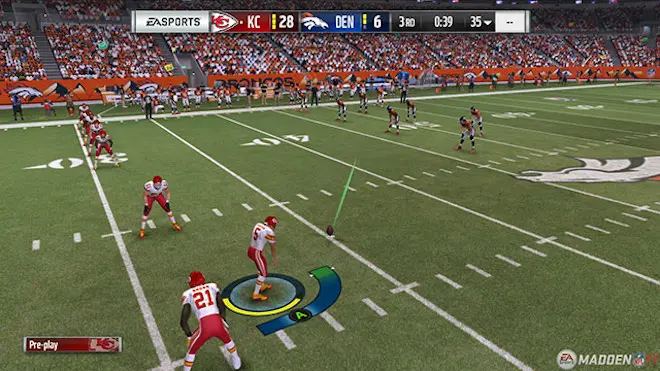 The broadcast presentation has also been altered and can now be skipped (thank the maker!), so players can get right into the game. New camera angles and graphics help to make Madden NFL 17 more of its own thing, and less of a knock off of a Sunday afternoon TV telecast from Fox or CBS (or NBC or ESPN for night games).
The biggest change in Madden NFL 17 is arguably in the franchise mode. For the first time ever, player/owners can actually game plan for a particular team, including how practices are held and executed. If you are playing a pass-happy team that week, practice secondary drills and pass rush. If a smash mouth running team is coming to town, create defensive schemes that load the front seven and close any gaps.
Owners also have to make "big decisions" on their personnel on a weekly basis, and those decisions affect the play on the field. If a player is banged up, do you start him or sit him? Will it hurt the team? Do you play the rookie? These are a few of the things that owners will have to consider when prepping their team for each week's games.
This new mode will undoubtedly create a new level of realism for players who love the nuts and bolts of the sport of football (like myself), and I can see me spending hours each week just making sure my team is prepared come Sunday.
There are obviously many more tweaks and changes in store for Madden NFL 17 this year, including new Madden Ultimate Team (MUT) features, and we will get into them more in-depth as the game gets closer. Expect an in-depth review of the game in a few short weeks, and know that right now, there will not be a weekend without some kind football until February. Rejoice fans, football is back, and so is Madden NFL 17.
Madden NFL 17 hits the field on August 23 in both physical and digital varieties. It will also available in Standard, Deluxe, and Super Deluxe versions, for the PS4, Xbox One, PS3, and Xbox 360. The hot new Xbox One S system also has a Madden NFL 17 version coming.