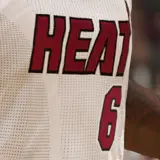 NBA 2K14 is now available for Xbox 360 and PlayStation 3, clearing the way for 2K Sports to focus on the upcoming next generation version of the game coming next month as a launch title for PlayStation 4 and Xbox One.
Our first taste of next-gen NBA 2K14 was delivered this morning in the form of a single screenshot snapped from the PS4 version of the game. It features LeBron James, of course, and he's looking quite detailed down to thickness variations in his beard.
If you're thinking that NBA 2K14 for Xbox One and PS4 are upscaled ports from the current generation versions, think again. 2K Sports has built the next-gen version from the ground up so it should, in theory, take advantage of the added console power. I think you'll find this first screenshot is proof of that (click the thumbnail below to enlarge).
Next week we will get our first glimpse of NBA 2K14 running in motion on Xbox One and PlayStation 4 with the release of the first trailer.
Pre-order NBA 2K14 for Xbox One or PS4 at Amazon.com.