'Everspace' Review: The "Dark Souls" Of Space Shooters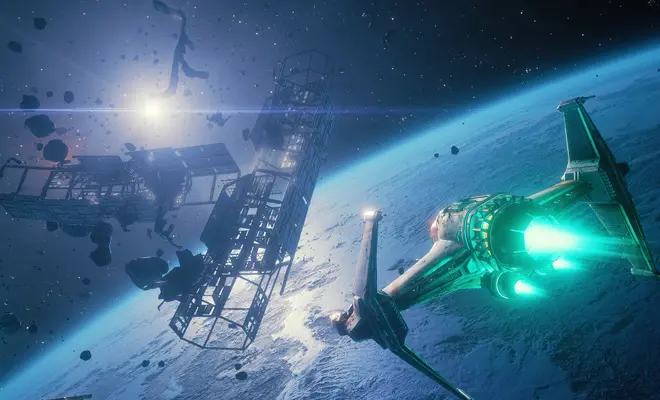 Rockfish Games was founded by a pair of mobile game pros, Michael Schade and Christian Lohr. For almost 10 years they ran Fishlabs Entertainment, a German-based mobile game studio that produced the award winning space sim Galaxy on Fire series. Now, they're stepping it up, venturing into the PC and console markets with their first non-mobile title, Everspace.
Visually stunning, but punishingly brutal is about the only way to describe Everspace. This space shooter puts you in a world you could stare at for hours and be at peace. But you can't stop and appreciate the beautiful procedurally generated universe they've created or you may have to start over from the very beginning. Actually, you're probably going to have to start over several times.
But don't worry too much. You get to keep all the goodies you've picked up so far, making the game a little less difficult, but still intensely challenging. In Everspace, you move from sector to sector, clearing out enemies and collecting loot, fuel and upgrades to your ship. Luckily, there are few enemies to deal with in the starting sectors, and the ones that are there are fairly simple to deal with. Naturally, you'll face more difficult enemies and a greater number of them as you progress through the game.
When you die, you start back in the first sector, but at least you won't be stranded with the same basic ship and basic weapons you started with. And even though you've played through a sector once, thanks to procedural generation it won't be the same the second or third or fourth time you play through it. And those resources you collect? You're going to need them a lot down the line, so resource management is arguably as important as defeating the waves of enemies.
Unfortunately, even with procedurally generated sectors and absolutely gorgeous graphics, Everspace can still get a bit repetitive. And the resource management is enjoyable for the first few hours, but it becomes extremely tedious after that. Also, this is one that is probably easier to play with a keyboard and mouse rather than clunky console controllers, as precision is needed while shooting down baddies.
But the biggest issue with the game is the lack of a concrete story. While there appears to be an attempt at creating a narrative through flashbacks and NPC encounters, its extremely light and after playing for 10 hours and dying several times, I still have no idea what the actual end goal is and why my character is flying around.
Rockfish Games has a solid first title with Everspace. It's an absolutely beautiful game that makes use of the Unreal Engine. And while it punishes you for making the slightest mistake, it's extremely rewarding when you finally pass a sector you've died in for the past three runs. But the repetitiveness and the tediousness paired with the lack of a decent narrative can be deterring for some players. Nevertheless, I look forward to whatever Rockfish plans on putting out next.
Everspace was reviewed on Xbox One using a game code provided by the publisher. A PlayStation 4 release is slated for later in 2017.
TheHDRoom may be paid a small commission for any services or products ordered through select links on this page.