Enigmatis 2: The Mists of Ravenwood Review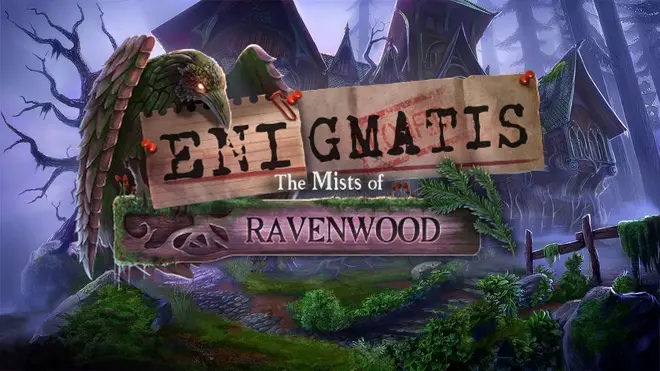 Developer Artifex Mundi is back with another port of one of their hit HOPA (Hidden Object  Puzzle Adventure) games. Enigmatis 2: The Mists of Ravenwood is the sequel to Enigmatis: The Ghosts of Maple Creek, released earlier this year for PlayStation 4. In The Ghosts of Maple Creek, players controlled a woman who awoke in the empty streets of a town with no memory of how she got there. She eventually recalls her identity as a detective sent to investigate the disappearance of a teenage girl. The culprit — a demonic preacher – manages to elude her as the story ends. Now that preacher is back in Enigmatis 2: The Mists of Ravenwood. Our detective heroine once again sets out to hunt him down, following a trail of disappearances to the rural area called Ravenwood. There she encounters a gigantic black bird and a frightened young girl whose parents were seemingly stolen by the beast. And thus another dark mystery begins.
As you investigate the mysterious Ravenwood Park, you'll encounter numerous puzzles and minigames. Some of the items our heroine finds get marked as evidence and added to the evidence table. Discover enough clues and you'll be able to draw conclusions that advance the story. As our heroine progresses through this tale of mystery, she'll encounter many hidden object scenes. These scenes are more complex and more involved than in many HOPA titles. You'll have to interact with objects multiple times, combining and fiddling with them as you find new tools scattered throughout the scene. The addition of mild puzzle elements give these scenes a unique flavor.
As in previous Artifex Mundi games, players will move from scene to scene looking for clues and items that will aid them in their investigation. Each of the hand-painted scenes is full of gorgeous detail and vivid colors. They even feature small animations like ambient wildlife that keep them from feeling too static. The cutscenes are also the usual fare, paintings with some slight movement and panning. The voice acting is the same quality players of the genre have come to expect, and they do a good job of moving the story along and creating some tension. Enigmatis 2: The Mists of Ravenwood is not anything new and creative, but if something isn't broken, don't try to fix it.
I have been known to enjoy these types of games; it's nice to play to a game without time limits, stressful shooting sequences, or frustrating gameplay, and just relax with a point and click HOPA. Enigmatis 2: The Mists of Ravenwood does this well, it's colorful and pretty, even if the graphics and voice acting are pretty basic. Artifex Mundi made a game where your journey is as time consuming as you, the player, chooses. Enigmatis 2: The Mists of Ravenwood lets you skip cutscenes, decide whether you want to go after collectibles or not, fast travel to areas you have been to before, letting you skip puzzles if stuck, and includes a very helpful hint system. Not that the puzzles are particularly hard. I preferred to take my time, but that is also why I love these games: no pressure.
Enigmatis 2: The Mists of Ravenwood continues the story from the first game very well, but Artifex Mundi also made this sequel accessible to new players. If you missed the first one, you can still jump right in without feeling lost. With a third, Enigmatis 3: The Shadow of Karkhala released last year on other platforms, I expect we will see the final installment on PS4 before the year is out. Enigmatis 2: The Mists of Ravenwood is yet another great adventure game from Artifex Mundi. As always in their games, the production values are fantastic for this genre. It about four hours to complete just the main game, and much more for those hunting collectibles or just taking their time. I felt this was very fair considering the lower MSRP of $9.99 on the Playstation Store. If you enjoy HOPA games on your console, Enigmatis 2: The Mists of Ravenwood is a must buy and a shining example of what the genre, and this experienced developer, can do.
Enigmatis 2: The Mists of Ravenwood is available now on PlayStation 4, Xbox One, PC, and Mobile. This review is based on a PS4 copy provided for that purpose.
TheHDRoom may be paid a small commission for any services or products ordered through select links on this page.