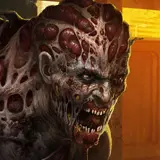 Techland's Dying Light zombie apocalypse survival horror game is making an appearance in playable form at PAX this weekend. With the arrival of PAX, publisher Warner Bros. Interactive Entertainment have sent along some new screenshots and revealed a pre-order bonus.
Anyone who pre-orders Dying Light for Xbox 360, Xbox One, PlayStation 3 or PlayStation 4 will gain access to a timed exclusive player vs. player mode called "Be the Zombie." This mode lets one player play as a night hunter, described as "a lethal predator with unique and deadly skills like superhuman speed, a tendril used to grapple around the game world, special charge and distance attacks, and more. As an extremely rare zombie mutation, the night hunter is an agile, fast and dangerous enemy who emerges nocturnally in order to prevent the destruction of Hives by killing humans." The other guy gets to be a boring human.
What's cool about how Techland has built this mode is the night hunter has his own skill tree and can be leveled up. He also has exclusive rewards and perks that can be earned.
The "Be the Zombie" mode is expected to be available to non-pre-order Dying Light players sometime after the game has already been released as DLC, and I would expect it to cost money to acquire.
Dying Light will be released sometime in 2014 with my best guess being before July.
Click here to Pre-order Dying Light at Amazon to earn the "Be the Zombie" mode for launch.