The Dragon Quest series is as legendary as they come. It predates even the mighty Final Fantasy franchise, and truly paved the way for JRPGS to find an audience here in the states. Originally called Dragon Warrior for the NES, the series reclaimed its original name with the release of Dragon Quest VII on the PlayStation followed by Dragon Quest VIII on the PS2. The Nintendo DS has also seen four numbered releases (Dragon Quest IV through VI, and the wonderful Dragon Quest IX) along with many official side-games, and the series has been featured on at least six different consoles/handhelds here in North America.
The next Dragon Quest game, called Dragon Quest Heroes, is scheduled to hit stores on October 13, and we got a chance to play a few levels at this past summer's E3. As long time fans of the series — and of Musou games — this marriage of ideas was already a "must play" game at E3, and after only a few minutes with battling the greatest hits of DQ monsters, I can report that Dragon Quest Heroes is going to be a sure fire winner.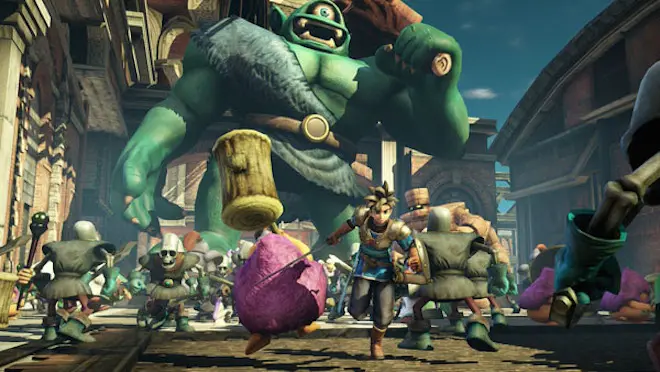 The full title of the game is Dragon Quest Heroes: The World Tree's Woe and the Blight Below, but simply calling it Dragon Quest Heroes, or even DQH is sufficient.
Players take control of some of the most iconic characters from the series core games on a new adventure. While it has many traditional Musou elements, DQH feels very different in that the maps are less wide open environments with thousands of enemies, and more of intimate battles with a handful of enemies (well, a handful being closer to 100 or so, but not the sheer numbers you would see in, say, a Dynasty Warriors game). Missions are more streamlined and focused, as a greater — and epic — story is being told.
Characters also have more abilities than just rampant button mashing, as spell casters can buff heroes, rebuff monsters, or unleash devastating magic on the enemies. And there is nothing sweeter for fans of the series than coming across a huge King Slime, as the crowned blob takes up most the screen. Slimes (of all types) aren't the only legacy monsters here. Expect to battle golems, dragons, towering ogres, armies of skeleton knights, swarms of bats and so much more. Fighting is done in real time, with up to four characters, and switching between then is as simple as a button press. Managing the team is the key for survival, and balance is important.
Additional features for Dragon Quest Heroes include:
Overpower Hundreds of Monsters – Become the hero of the battlefield as you swing into action against seemingly impossible odds; Cleave through the relentless swarms of monsters and battle gigantic foes in epic clashes of good versus evil

Fight Alongside Legendary Characters – Players embark on a journey with some of the most beloved characters of the Dragon Quest series – all voiced – to form their own party of four and stride into battle

Strategy-Oriented Battles – Players can level up each character and upgrade their unique spells and abilities; Swapping between characters strategically and unleashing the right skill at the right time will help players survive the toughest battles

Collect Monster Medals to Turn the Tide – Gather monster medals from defeated foes to bring them back to the battlefield as allies or to take advantage of their special skills – up to 24 monsters can fight by the player's side at any one time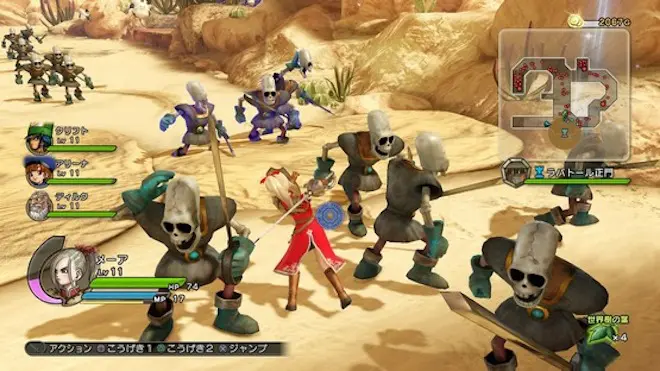 The art design uses Akira Toriyama's original artwork, and the bright colors and voice acting really makes Dragon Quest Heroes a must-play for fans, new and old.
As October 13 draws closer, expect more information to surface, and hopefully a full review. Dragon Quest Heroes: The World Tree's Woe and the Blight Below comes with a Day One Edition that includes five pieces of special slime-themed weapons and armor, and there is even a collector's edition that can be purchased through Square-Enix's online store. These collector editions come with a ton of goodies — both in-game and physical, but they are numbered and are very close to selling out.
Dragon Quest Heroes: The World Tree's Woe and the Blight Below is a PlayStation 4 exclusive and hits stores in North America on October 13, 2015 and October 15 in Europe.