'Demon's Crystals' Review: Perfectly Priced Fun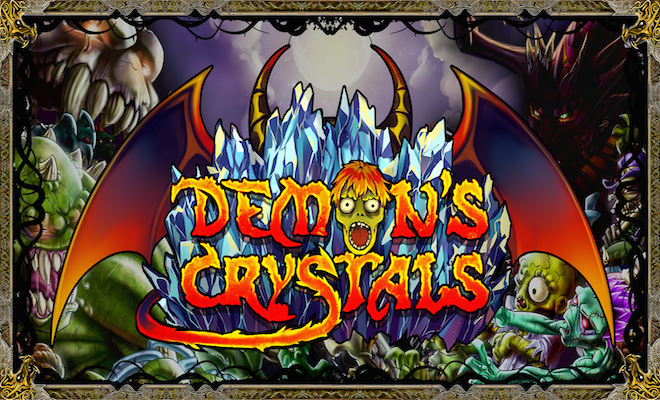 Demon's Crystals, the new twin-stick shooter from developer Byte4Games, takes a rather simple premise and executes it splendidly. In Arcade mode, players choose from one of four Uricans, winged and horned demon girls with guns, who the have to defeat three powerful bosses in three locations to restore balance to the world. The three locations, like a castle, forest, and a graveyard, are full of enemies, and the player must constantly move with the left stick and shoot with the right.
There are power-ups scattered around everywhere, so bigger and better guns are always available, as well as shields, elemental screen wipes, and one power up that makes the character into a giant that can squash all enemies. Most matches/levels devolve into bullet hell, so constantly moving, dodging, and shooting are the keys to success. The maps in Demon's Crystals are generally small, multiple area layouts that force combat at every step, and in Arcade mode, each location has multiple levels to conquer, each with set requirements to fulfill before moving on. Requirements like kill X number of enemies, or collect X number of crystals, or both, rinse and repeat over and over. But it never gets old.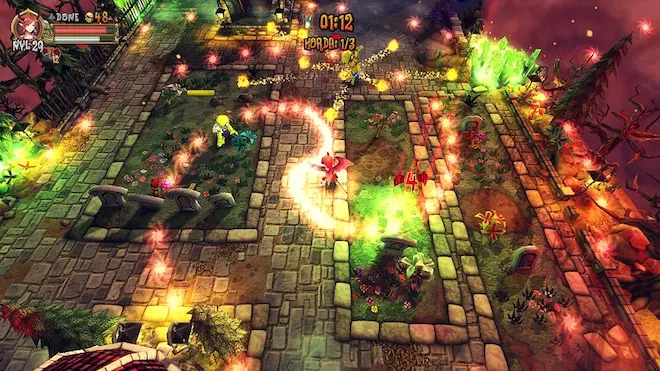 In Demon's Crystals' multiplayer game mode, there are six different modes, including survival, deathmatch, and versus, which are pretty standard, and then there are games like Crystal Quest, where you collect as many crystals as possible; Seize the large Crystal, where you have to destroy a barrier and take a huge crystal before your opponents; and Kill the Enemies, which is a kill fest for points, but accidentally killing a Gnome resets your score. While the lack of online play is disheartening, the multiplayer modes help bridge the gap between Arcade (story) mode and the last mode, Survival, where a player kills all that they can before falling, and then their scores go on a world-wide leaderboard.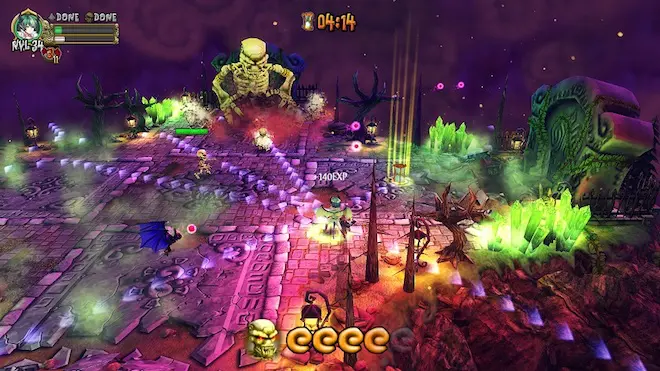 The best part of Demon's Crystals is the price: $4.99 on PS4, Xbox One, and Steam. This is an incredibly fun little game that is well worth the cost of admission. Even though it lacks online multiplayer — I would love to see that addressed at a later date, or in a sequel — Demon's Crystals is a game that I have played every night since I got it, if only for a few minutes, proving that there is a unique draw here, and that games can be played in short or long sessions.
The four Uricans level up during gameplay, and they max at 60, so I'm driving to get each of the four maxed out. And I enjoy ranking on the Survival leaderboard and replaying the boss battles, as they are screen-filling insanity that I use to get out some frustrations. Demon's Crystals is some of the most fun I've had in gaming this year, but there isn't enough here to keep that going without online play. Hopefully Byte4Games realizes this and is already at work on the next game. It would be worth it.
Demon's Crystals is available digitally now on the PS4, Xbox One, and on Steam. This review is based off a PS4 review code provided by the publisher.
TheHDRoom may be paid a small commission for any services or products ordered through select links on this page.