Activision today unveiled the first trailer for the much-anticipated return to World War II with Call of Duty: WWII. Developers by Sledgehammer Games, and in production since 2014, Call of Duty: World War II takes games back to the early 1940s to fight one of the worst wars in human history. The action takes place in the european theater, and will revisit the D-Day invasion at Normandy, the battle to retake Paris, and the eventual push into Nazi Germany to finally bring the terror of the Axis power to its knees.
Call of Duty: WWII follows the soldiers of the 1st Infantry Division, a diverse group of men brought together in the call to war, who have to work together to fight Nazis. The trailer shows off some of the more epic cinematics in the game, using in-game footage, and it looks to be a spectacular return to an era that defined the franchise and military shooters as a whole.
As the press release notes, this game has been in development for over two years, and it's a labor of love for Sledgehammer, whose last game in the franchise, Call of Duty: Advanced Warfare, set the bar for futuristic combat that was fully realized in last year's Infinite Warfare.
"More than two and a-half years ago we made the decision to return this franchise to its roots, and Call of Duty: WWII does so in epic fashion," said Eric Hirshberg, Activision CEO. "The team at Sledgehammer Games is delivering an authentic, gritty, cinematic experience that honors both the epic scale, and the human struggle of the greatest war the world has ever known.  This game will let longtime fans experience World War II like never before, and will introduce this historic conflict to a whole new generation of gamers in the process."
"Call of Duty: WWII has been a journey of inspiration and passion for everyone at Sledgehammer Games. The team is dedicated to delivering on the intense nature of war that focuses on the heroism and sacrifice of soldiers in WWII. Our rich narrative driven, action-packed campaign, and engaging and innovative multiplayer experience immerse players into the boots of a soldier fighting for freedom in a world on the brink of tyranny.  And, our co-operative mode delivers a unique storyline that's an all-new take on Nazi Zombies that we think fans are going to love," said Michael Condrey, Studio Head and Co-Founder of Sledgehammer Games.
Added Glen Schofield, Studio Head and Co-Founder of Sledgehammer Games, "the story we're telling is unlike anything that we've tackled before.  It's such an amazing journey of common everyday people who became heroes. We want to respect this great generation of soldiers, tell a realistic story set in a true inflection point in human history, and deliver the best experience of our careers."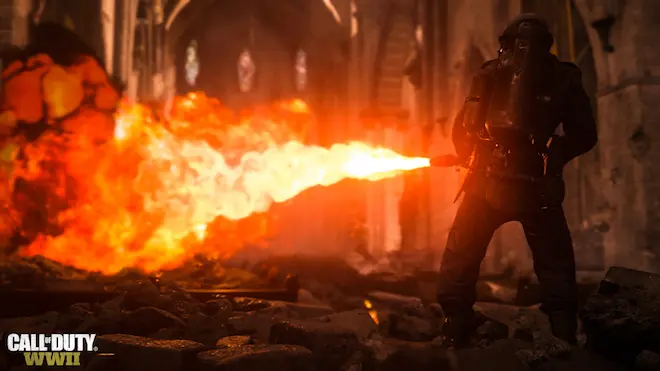 Not much else is known about Call of Duty: WWII, other than it has been rumored that health regeneration is now a thing of the past — fitting — and players will only be able to heal with health packs. Call of Duty: WWII will have a fully featured multiplayer mode and a co-op Nazi Zombies mode. More on this will be revealed in the coming months.
Call of Duty: WWII is available now for preorder, and preordering unlocks a special private beta to take place sometime this summer. Call of Duty: WWII is available for pre-order in the following editions:
Base Edition and Digital Base Edition – Suggested Retail Price $59.99.
Digital Deluxe Edition – Season Pass and more, SRP $99.99.
Pro Edition – Season Pass, collectible SteelbookTM and more, SRP $99.99.
The Season Pass, while announced, has not been detailed as yet, and expect more info to come on that. Below, find the first trailer for Call of Duty: WWII and keep checking in for more info as we get closer to the November 3, 2017, launch date.
Call of Duty: WWII will be available for PS4 and Xbox One on November 3, 2017.