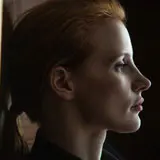 Kathryn Bigelow's big-screen hunt for Taliban leader Osama bin Laden, the new thriller Zero Dark Thirty starring Jessica Chastain, shrugged off isolated criticism surrounding the film's torture sequences since the film's limited release to easily win the box office on its first day of wide release. The other newcomers, A Haunted House and Gangster Squad, were in a dead heat for a distant second and third place finish, respectively.
Sony expanded Zero Dark Thirty to 2,937 theaters on Friday and benefited from the added exposure, racking up an impressive $9 million in ticket sales. That puts it in pace to easily top $20 million for the weekend, if not surpass $25 million. The film's total since its limited release that began last month now stands at $14.9 million and continues to climb.
It's hard to tell if a recent wave of backlash against the film's torture scenes affected ticket sales for Zero Dark Thirty on Friday. While the numbers are high, one has to wonder if they might have been higher if the swelling argument that the film promotes torture wasn't being spoon fed to potential moviegoers by the media. Despite the controversy, Zero Dark Thirty still managed a Best Picture Academy Award nomination.
The horror spoof A Haunted House co-written by and starring Marlon Wayans surprisingly took second place with $6.7 million. It's on track for an opening weekend around $17 to $18 million, well beyond the reported miniscule $2.5 million budget.
Gangster Squad finally arrived after being delayed to settle for third place with $6.7 million. It could theoretically take second for the weekend, though Warner Bros. can't be happy considering the star power involved: Ryan Gosling, Sean Penn, Josh Brolin and Emma Stone, to name a few.
Django Unchained landed in fourth place with $3.5 million despite being nominated for Best Picture the previous day. Fifth place went to another holdover and Oscar contender, Les Miserables, with $2.8 million.
Be sure to swing by tomorrow a learn how high Kathryn Bigelow's Zero Dark Thirty was able to soar beyond the $20 million mark.