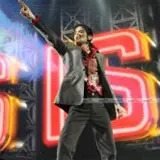 This Is It for Michael Jackson as the documentary film based on rehearsals and preparations for the tour that was not to be is rolled out on roughly 3,500 screens this Wednesday.
The early This Is It opening combined with no other new films seeing a wide release makes this a unique round of the Weekend Box Office Prophet game. This It Is stands poised to reap big returns, but Paranormal Activity continues to pull down a huge per-screen average and does not look ready to roll over and play dead just yet.
The Weekend Box Office Prophet game lets you predict what five individual films will make in millions at the box office from Friday through Sunday. The average participant scores will be weighed against the Prophet's score and if the Prophet loses as he did the past two weekends, a prize or prizes will be issued. Weekly and cumulative scoring charts are available on the main game page.
The entry period for this round will close the evening of Thursday, October 29. The average player scores will update in real time below as new predictions are entered.