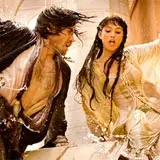 Shrek Forever After's low $70.8 million opening threw off scores in our Weekend Box Office Prophet game. The Prophet missed the ogre's mark by nearly $20 million, but still managed to beat the player averages for all five films 3-2 (see the results). Top place player finisher Davien walks away with a DVD consolation prize.
A pair of new films enter the fray for Memorial Day weekend. Sarah Jessica Parker heads to the desert in Sex and the City 2 on Thursday, while Jake Gyllenhaal and Gemma Arterton pair up in a more hostile desert setting in Prince of Persia: The Sands of Time. Returning for this round of our game are Iron Man 2, Shrek Forever After and Robin Hood.
The game's objective is to guess the final domestic box office dollars in millions for these five films from Friday, May 28 through Sunday, May 30. Your prediction is averaged in with the other players for a cumulative score to compete against the Prophet predictions (view the overall leaderboard).
Should the average player differences between the actual box office gross and predicted grosses beat the Prophet for 3 or more of the 5 films, the top player will win the following titles on Blu-ray:
High Anxiety on Blu-ray
Robin Hood: Men in Tights on Blu-ray
NEW THIS WEEK: The Wolfman on Blu-ray
A tie goes in favor of the players.
If the Prophet wins then all three prizes will rollover into the next round and be joined by a fourth. We will still award a small DVD prize to the top place finisher should that happen.
Once you are logged in, the average player scores will update in real time below as new predictions are entered. The entry period will close at 9pm PST Thursday, May 27, with this round's results being published in the next round's game page next Tuesday or Wednesday.