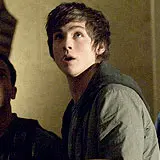 Before looking at this current round of the Weekend Box Office Prophet game, our hats go off to WalkingDisaster who pulled off an improbably three-peat victory. No prize will be awarded because the Prophet beat the players 3-2 (view last round's results), but you can help ensure a prize is issued every week regardless. More on that below.
This round sees three big movies open for what could potentially be a record-breaking President's Day and Valentine's Day weekend. Joe Johnston's The Wolfman with Benicio Del Toro and Anthony Hopkins aims for the older crowd, Percy Jackson & the Olympians: The Lightning Thief the younger crowd, and Valentine's Day the movie everyone else. All three films have a legitimate shot at surpassing last weekend's top finishers, James Cameron's Avatar and Dear John.
The object of this game is to guess the final domestic box office dollars in millions for these five films from Friday, February 12 through Sunday, February 14. Your prediction is averaged in with the other players for a cumulative score to compete against the Prophet predictions (view the leaderboard).
Should the average player differences between the actual box office gross and predicted grosses beat the Prophet for 3 or more of the 5 films, the top player will win three prizes: rollover prizes Clint Eastwood's Mystic River on Blu-ray Disc and Walk the Line on Blu-ray Disc, along with this week's prize Halo Legends on Blu-ray Disc. If the Prophet wins then all three prizes will rollover into the next round and be joined by a fourth.
New Rule: To encourage growth of this game, we will award an additional prize to the top place finisher should the Prophet win IF the number of players in a round reaches 100. So get out there and help the game grow.
Once you are logged in, the average player scores will update in real time below as new predictions are entered. The entry period will close the evening of Thursday, February 11, with this round's results being published in the next round's game page on Tuesday.