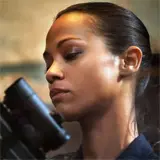 This upcoming weekend at the box office is looking strikingly similar to the last. Incumbent champ The Help and runner-up Rise of the Planet of the Apes stand poised to feast on studio summer leftovers in the form of Colombiana with Zoe Saldana, Guillermo del Toro's Don't Be Afraid of the Dark with Katie Holmes, and Paul Rudd seeking – what else – laughs in Our Idiot Brother.
In our Weekend Box Office Prophet Game's latest round, you are given the opportunity to predict what these five films will make in North America between Friday, August 26 and Sunday, August 28. The game will automatically average in your prediction with the other players to go against our Prophet prediction.
The Prophet went low in the last round and swept the players 5-0 despite player smhs08 missing each film by an average of less than $2 million per. In order for me to award the Shaun of the Dead on DVD prize to the top individual player, the average player scores need to beat the Prophet on 3 or more of the films.
Player prediction average scores will automatically update below as new predictions are made. This round's entry period closes at 9pm PST on Thursday, August 25. Don't be afraid of the game; take your best shot.