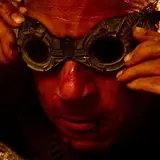 Vin Diesel and his R-rated Riddick sequel film proved that the box office immediately after Labor Day isn't necessarily a dumping ground for the worst Hollywood has to offer. It easily topped an otherwise quiet weekend, beating Lee Daniels' The Butler by a wide margin. Despite Riddick's decent bow, this past weekend was the slowest at the North American box office in 2013 to date.
Universal pushed Riddick and its star Vin Diesel into 3,107 theaters and were rewarded with an $18.7 million opening weekend, right in line with estimates that were based on the performance of the two prior films in the series. Overpriced The Chronicles of Riddick made roughly 40 percent more its opening weekend, but cost over three times as much to produce. Pitch Black made only $11.5 million in its debut, and even adjusted for inflation Riddick came out higher. Given Riddick's modest "B" CinemaScore and niche genre audience, expect a big dropoff next weekend and a final tally short of $50 million.
Lee Daniels' The Butler took second place with only $8.9 million, and that's not too shabby considering the film is in its fourth weekend of release. It passed $90 million as expected through Sunday and now stands at $91.9 million overall. Look for it to bust through the $100 million mark by this upcoming Friday.
Lionsgate expanded the latino sensation Instructions Not Included to 717 locations and it paid dividends as the film ended up taking third place from We're the Millers with $8.1 million. Though Instructions Not Included has only been out for two weeks and yet to expand beyond 717 theaters, it has already earned over $20 million and could go much higher as word of mouth continues to spread.
Warner's We're the Millers finished third on Friday but dropped to fourth by Sunday with $7.9 million. That's just fine for the studio who no doubt continues to celebrate the R-rated comedy's $123.8 million and growing box office total through five weeks of release.
Disney and Pixar's Planes is still managed to maintain altitude in the top five with $4.3 million this past weekend. At $79.3 million overall, Planes should finish its box office run somewhere in the neighborhood of $90 to $95 million. $100 million is a bit of a stretch considering most kids are focused on school right now.
Next weekend sees Luc Besson's R-rated mob family comedy The Family starring Robert DeNiro enter theaters alongside the horror sequel Insidious Chapter 2. Both films should top Riddick, with Insidious Chapter 2 expected to win the weekend frame.