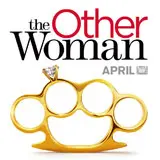 The Other Woman used girl power to break a string of dominant box office performances by Marvel's Captain America: The Winter Soldier to win its debut weekend. Two other newcomers, The Quiet Ones and Brick Mansions, were left buried in the sand.
Approximately 75 percent of the audience that boosted The Other Woman to a $24.7 million opening weekend were made up of women. That's exactly what Fox was looking for when they began marketing the film based on a story about three women, played by Cameron Diaz, Leslie Mann and Kate Upton, schemed to exact revenge upon their shared cheating man, played by Nikolaj Coster-Waldau (Game of Thrones). The "B+" CinemaScore rating was mediocre at best, but the lack of competition for female moviegoers until the debut of Neighbors in two weeks should allow The Other Woman to thrive in the short term.
Captain America: The Winter Soldier was unable to win a fourth consecutive weekend at the box office, though don't think that anyone at Marvel or parent company is hanging their head in shame. It still earned a hair over $16 million in its fourth weekend, only a 37 percent decline from the previous frame. Thus far domestic box office business stands at $224.9 million, roughly $18 million more than Thor: The Dark World made. Worldwide business stands at a solid $645.2 million and counting.
Heaven is for Real landed in third place with $13.8 million to bring its total thus far to $51.9 million. The religious film should soon top another recent genre hit, Son of God, whose total stands at $59.6 million.
Rio 2 danced its way into fourth with $13.7 million and at $96.2 million, will cross the $100 million milestone before next weekend. It is still a ways away from the $143.6 million the original earned back in 2011.
Rounding out the top five wasd Brick Mansions, a remake of the French parkour film District B13 that also shares the distinction of being the last film completed by Paul Walker before his death. It earned $9.6 million and probably had a small boost due to Walker's involvement.
The Quiet Ones flopped into seventh place for Lionsgate with only $4 million. That's one of the worst horror openings of recent memory and a small setback for the genre.
Next weekend sees The Amazing Spider-Man 2 explode onto the scene for what should be an easy opening weekend win.